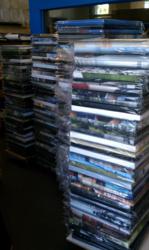 PixWraps' process for scaling up can provide for an increase in gallery wrapped canvas production printing in as little as 48 hours, allowing them to be proactive through the holidays.
Seattle, WA (PRWEB) August 24, 2012
PixWraps.com, a fine art photo gallery wrapped canvas company, has expanded into additional production space and added additional equipment and call center representatives to meet the need for increased production capacity. PixWraps.com has received over 25,000 orders for custom photo canvas prints this year and is now printing and shipping up to 1,000 canvases per week.
PixWraps.com has had tremendous growth in the personalized photo canvas market by offering high-quality canvas photo prints at significant discounts through daily deal sites like Saveology, Eversave and Tippr. Discounted deals offered have 16x20 inch canvases and 18x24 inch canvases with free shipping selling for as much as 70% off of retail price. PixWraps.com also offers direct deal savings to their subscribers as well. PixWraps.com has offered deals in major metropolitan cities in the United States and Canada.
The unprecedented growth has seen an increase in production capacity to meet the needs of printing hundreds of gallery wrapped canvases per day for a growing customer base. PixWraps has ordered additional giclee printing equipment and can now produce up to 600 canvases per day. The production of canvases is not automated to ensure the highest quality workmanship by it's skilled artisan staff.
PixWraps.com also outgrew their shared production and office space and now maintains separate production facilities for redundancy; and administrative offices with a robust call center equipped with Macintosh workstations and graphics programs for image review on the spot.
About PixWraps.com
PixWraps.com, based in Seattle, WA was founded in late 2011 as a fine-art printing service, applying giclee print technologies to canvas, stone, tile and plastic. Although founded as an art printing service, the primary products sold are canvas gallery wraps. PixWraps.com uses archival inks on high-quality canvas to ensure they last for generations. The company owners are pioneers in the digital print industry, having been involved in digital printing in the late 90's, and have applied their knowledge to the digital print fine-art market. PixWraps employs 13 full-time artists and up to 20 part-time artists during peak seasons. For more information or to place an order visit http://www.pixwraps.com or email questions(at)pixwraps(dot)com.