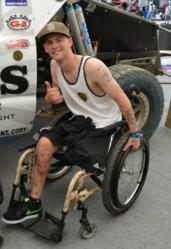 Heroic Marines like Cody Elliott are not being taken care of when they return home.
-Paul Szoldra
New York, NY (PRWEB) August 23, 2012
The Marine Infantry Veterans Foundation (MIVF) a new independent 501(c)3 charity organization for veterans of the past decade, will put the spotlight on wounded warriors with unmet needs over the Labor Day Weekend with a bike ride from Ground Zero in New York City to the Iwo Jima Memorial in Washington, D.C.
"Our goal at the Marine Infantry Veterans Foundation is to provide Marines, like Cody Elliott, the opportunity to achieve their full potential," says MIVF founder and CEO Greg Wright, a 35-year old former infantry assaultman.
"Riding a bike long-distance, while challenging, will never measure up to the sacrifice and pain that so many fallen and wounded Marines have had to endure," said Wright,
Wright plans to ride his bike over 300 miles from New York to Washington, D.C. over the long weekend to raise awareness for Marines, he says, "who sometimes fall through the cracks and are forgotten."
One Marine that Wright will be thinking of during his journey will be Cody Elliott, a former Lance Corporal who fought in the volatile Sangin district of Afghanistan in 2011. After his platoon's point man tripped an improvised explosive device (IED) and enemy fighters attacked, Elliott ran through withering gunfire to aid the fallen Marine.
After applying a tourniquet and pulling the Marine to safety, Elliott triggered a secondary IED that ripped away one of his legs, a finger, and scarred his face. Weeks later he would wake up in a hospital in Germany.
"Cody Elliott has given more for his country and for his Marines in those minutes of amazing heroism," says Greg Wright, "than many can say for an entire lifetime."
Despite the incredible courage and sacrifice Cody Elliott displayed that day, Wright says the young Marine is now struggling to pay bills while simultaneously trying to put his life back together.
"Every amenity that we take for granted is a struggle for this heroic Marine," says Wright. "Yet he never asks for help, ever."
MIVF Media Relations Director Paul Szoldra believes that the bike ride is an opportunity to not only raise money for Cody and others, but bring awareness and share their story with everyday Americans.
"Amazing acts of heroism and sacrifice among our Marine brothers happen every day," says Szoldra, a 28-year old former infantry mortarman and instructor. "And yet their stories are being ignored, and even worse -- they are not taken care of when they return home."
Wright hopes that the ride, along with the frequent stops he has planned to talk in communities along the way, will bring light to the issues specific to infantry Marines.
"We have heard from Marines wounded in combat, missing limbs -- and waiting 3 years to get their benefits," says Wright. "We cannot go to to Veterans Affairs and fix the problems with their backlog, but we can provide a pipeline of help and guidance, and provide for them if they run into financial trouble."
Staffed by current and former infantryman, MIVF is uniquely positioned to both understand and greatly impact veterans for years to come.
"It's all about giving back to those that have given us so much," added Wright.
The ride will begin on 8/31 at Ground Zero in New York City and is expected to finish on 9/5 at the Iwo Jima Memorial in Washington, D.C.
---------------