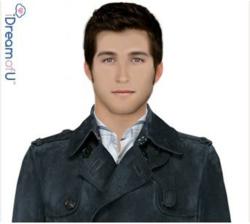 San Diego, CA (PRWEB) August 22, 2012
iDreamofU (IDOU), a new online social dating site, enables both men and women to create a near-lifelike image of the person they want to meet. IDOU software then matches the created image, along with responses to the traditional demographic and relationship questions, to members on the site. Created images can be shared outside of IDOU on social media sites Facebook, Twitter and Pinterest.
A non-dating component to the IDOU online social dating software allows anyone visiting the site to create a person's image. While the Fifty Shades of Grey trilogy continues to titillate the world, IDOU site users have created their own vision of EL James' Fifty Shades' character Christian Grey prior to Hollywood casting him.
Additional inspiration from Fifty Shades of Grey can be seen in the IDOU blog, Dream Buzz. While the steamy trilogy is often controversial, the blog shares that there is a theme of compromise that runs throughout the books. The blog 50 Shades of a Better You questions how necessary compromise is and how much one should compromise in order to make a relationship successful. The blog also invites readers to create their visual version of Christian Grey.
IDOU site members' versions of Christian Grey can be seen on IDOU's Facebook page. Visitors to the page can vote for their favorite Christian Grey. Or better yet, they can visit the IDOU site and create a near-lifelike image of anyone they choose.
About IDOU
IDOU provides an innovative, game-like, and first-in-class approach to online social dating for 18-to-50-year-olds in the United States. All services on IDOU are currently free. IDOU will focus on the use of its website and planned applications to create an online and social dating market niche.