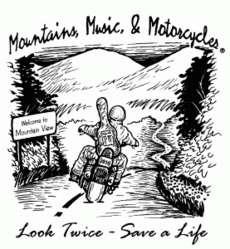 Mt. View happens to be in the heart of some of the best rides in the Ozarks and their hospitality toward traveling bikers is second to none
Eagle, CO (PRWEB) August 23, 2012
Mt. View, Arkansas is known for Blue Grass music and home cooking. Combine that with the incredible mountain roads that surround this quaint village and the annual Mountains, Music and Motorcycle event adds up to a great time in rural Arkansas.
Butler Motorcycle Maps from Eagle, Colorado sees small town events like this as the perfect opportunity to grow their brand and share their knowledge of motorcycling destinations like Mt. View.
"We are very pleased to have a strong relationship with the town of Mt. View and to help support them by attending fun events like Mountains, Music and Motorcycles. Our business is showing motorcycle riders the best roads and destinations in the country. Mt. View happens to be in the heart of some of the best rides in the Ozarks and their hospitality toward traveling bikers is second to none," says Justin Bradshaw of Butler Motorcycle Maps.
In addition to Mountains, Music and Motorcycles, Butler Maps will be selling their new Ozarks Motorcycle Map at Bikes Blues and BBQ in Fayetteville,Arkansas and The Hot Springs Rally in Hot Springs, Arkansas.
About Butler Maps: Butler Motorcycle Maps produces waterproof, road maps that help motorcycle riders find the best scenic motorcycle routes. Color coded information about the drama, safety and overall riding experience of a given road, provides riders an alternative to using the shortest distance or fastest time calculated by most GPS devices. Butler Maps are used by over 50,000 riders and are available in retail outlets throughout the country. Butler Maps is based in Eagle, CO. For more information please visit http://www.butlermaps.com or call (888) 479-6053