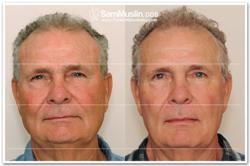 Although we can't avoid getting older, we can help the way we look at any age.
SANTA MONICA, CA (PRWEB) August 23, 2012
The aging process brings about a natural narrowing of the airway. Over time breathing becomes more difficult, and fatigue becomes a daily battle, reports California dentist Dr. Sam Muslin. Many resort to caffeinated beverages to get through the day.
"Around 40 percent of lung function is lost by the time you're 80. This has a major impact on quality of life. Many fall back on coffee and energy drinks to get that pick-me-up, but caffeine just doesn't cut it," says the Santa Monica dentist, who offers high-tech, dental-based restorative care to improve breathing. "Drink your lattes if you like, but don't expect them to fix your body's cry for more oxygen."
According to E-Imports, the average American consumes 3.2 cups of coffee per day. That's an $18 billion habit. And, according to a report published by researchers at the University of Miami's Miller School of Medicine, energy drink sales in the U.S. are expected to top $9 billion in 2011.
"Most people know that smoking, disease, and weak breathing muscles contribute to respiratory problems, but few recognize that worn-down teeth magnify breathing issues and accelerate aging. Starbucks and Botox won't really help," states Dr. Muslin. "The public should know that medical intervention is needed. This is particularly relevant to stressed out baby boomers experiencing a decline in health."
With each passing year, oral soft tissue loses more elasticity, and bite collapse progresses as teeth shorten from wear and tear. Deep overbites can develop, reducing the room available for the tongue and hindering air intake. Allergies and nasal congestion compound the issue since many sufferers rely on mouth breathing to get enough oxygen. Snoring is common, the doctor notes. There are at least 10 telltale signs someone needs anti-aging Face Lift Dentistry.
"Being overweight and over 40 puts you at risk. The health of your entire body is compromised when blood oxygen is less than optimal. Over time, cellular oxygen exchange becomes problematic and your internal organs take a hit. Daytime irritability, non-restorative sleep, fatigue, depression and fuzzy thinking become issues. Not only does your health decline, but you may also inadvertently give your boss a reason to fire you."
"People with breathing problems and fatigue often resort to short-term fixes," Dr. Muslin adds. "They find themselves low in energy and unable to concentrate, so they guzzle energy drinks and coffee to compensate. It stimulates the cardiac system, but it's temporary at best."
Despite the flagging economy, energy drink sales in the United States grew 15.4 percent between 2010 and 2011, according to Mintel, an international market research group. Beverages include products such as Monster, Red Bull and Full Throttle.
"Energy drinks foster a vicious 'jolt and crash' cycle," says Dr. Muslin. "Unfortunately, caffeine doesn't fix fatigue caused by reduced oxygen intake. It won't help you feel better long term, and the jitters certainly won't help your golf game."
Dr. Muslim, whose work has been featured on "The Doctors" and in the Wall Street Journal, uses Face Lift Dentistry ® – a non-invasive dental procedure – to enhance breathing. The technique trademarked by Dr. Muslin restores lost facial support and jaw joint function by building up worn teeth to a more youthful length and aesthetically pleasing angle. He uses customized porcelain crowns and veneers to raise the bite, reposition the TMJs, and to optimize face length. Airflow is maximized because the tongue no longer blocks the throat.
"My older patients want to improve their health and appearance. They want to have the capacity to exercise, and that requires good breathing. They know they need to stay competitive in the workplace. The next generation is on their heels, and they have to be proactive with image and health. Fortunately, I can help with both goals," enthuses Dr. Muslin. "Lots of my patients have been wonderfully surprised at the improvement in their energy and appearance after high-tech dentistry. They say being able to breathe is like 'setting back the clock 10 or 20 years.' "
If left untreated, breathing deficiency can lead to:

Memory decline
Daytime fatigue
Headaches
Stress
Comfort eating and weight gain
Diminished alertness
Reduced job performance
Inability to exercise
Accelerated aging
"Why suffer these side effects, when the right dentistry can turn things around?" Dr. Muslin asks. "Some of my patients have even been promoted in the workplace after treatment because they were able to present themselves as vibrant and professional. Their teeth looked beautiful, natural and healthy. They had more confidence and were able to speak with clarity because they were sleeping better at night and breathing more easily during the day."
To read more about Dr. Sam Muslin's reconstructive dentistry practice and to see remarkable case study photos, visit his Face Lift Dentistry website at http://www.faceliftdentistry.com. To schedule a consultation, call (310) 829-6796.