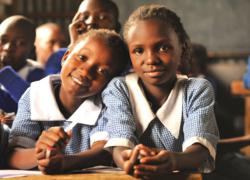 Thanks to the generous support of our guests.... we're giving people the tools they need to break the cycle of poverty by expanding access to education.

Dennis Pinto, Managing Director, Micato Safaris
New York, NY (PRWEB) August 24, 2012
Luxury safari outfitter Micato Safaris (http://www.micato.com) has been honored for the philanthropic endeavors of its non-profit, AmericaShare (http://www.americashare.org) for the second time – a first for any tour operator. The awards, announced in the September 2012 issue of Condé Nast Traveler are presented in five categories: Preservation, Environmental and/or Cultural; Wildlife Conservation; Health Initiatives; Poverty Relief; and Education Programs. Micato received the highest overall score across the five categories combined, making the Company winner among tour operators for "Doing it All." Micato was also recognized as the winner of the Education Initiatives category for its efforts to educate children in the Mukuru slum outside of Nairobi, Kenya. Other winners include Lufthansa, Ritz-Carlton, Aqua Expeditions and Help Tourism.
"We are extremely honored to have been recognized with two Condé Nast Traveler's World Savers Awards," states Dennis Pinto, Managing Director, Micato Safaris. "The recognition is especially meaningful for us in 2012, as this year we're also celebrating 25 years of our non-profit arm, AmericaShare. Thanks to the generous support of our guests, AmericaShare has been able to work with countless women and children in Nairobi's Mukuru slum, where we're giving people the tools they need to break the cycle of poverty by expanding access to education and creating resources that benefit the whole community."
"Working with the community to create sustainable solutions requires trust and a long-term commitment," says Lorna Macleod, Executive Director, AmericaShare. "The people of Mukuru know that we're in this for the long haul, and that we're working with families and the community to address their most pressing needs together. Our mission is to help people to help themselves; and with the continued support of our compassionate guests, Micato-AmericaShare is looking forward to its next quarter century of making a difference."
For more information about Micato Safaris, visit http://www.micato.com or call 1-800-MICATO-1.
About Micato Safaris
Micato Safaris is a luxury safari operator—offering adventures in East Africa, Southern Africa and India—that's been setting the industry standard for luxury and service for more than three decades. Travelers have recognized Micato's unsurpassed service by naming the company the #1 World's Best Safari outfitter an unprecedented nine times and the #1 World's Best Tour Operator a record eight times (before the categories were separated in 2012) in Travel + Leisure's prestigious annual survey. Micato's other accolades include the Conde Nast Traveler World Savers Awards for Education and "Doing it All" in both 2010 and 2012. For a quarter century, Micato's nonprofit arm, AmericaShare, has been supporting orphaned and vulnerable children and adults affected by the HIV/AIDS pandemic. Micato furthered its philanthropic outreach in 2010 when the company introduced its revolutionary One for One Commitment, which places one impoverished child in school for every safari sold.