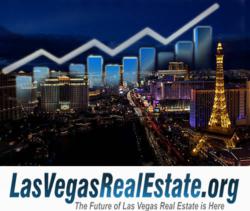 Las Vegas Real Estate Market Prices at 20-year Lows Attracts Global Investors
Las Vegas, NV (PRWEB) August 23, 2012
Las Vegas homes for sale may be one of the best global investment opportunities for home buyers and investors according to LasVegasRealEstate.org, CNNMoney, MarketWatch and Inman News. Inman News is the real estate industry's most authoritative source of market conditions, business trends, technology, real estate and financial news. Inman News has reported and confirmed that Las Vegas is among the top 10 states that have shown an improvement in real estate investment opportunities for investors. CNNMoney says - nowhere are potential profits better than in Las Vegas….investors in Las Vegas who rent out the properties they buy now will have a higher return than national average.
Ashley McCormick of Realty One, Nevada's number one Las Vegas real estate company, say's the "Las vegas" brand and infustructure of the city is world-class and cutting edge. Travelers arriving to Las Vegas turning on their iPhones and laptops to make contact are first impressed with the connectivity Vegas has to offer. iBtimes recently sited Las Vegas in the Top 10 Best cities for 4G access. TripAdvisor.com has Las Vegas rated in Top 10 cities in America for "Food & Wine Destinations". CNBC recently named Las Vegas in The Top 10 Most Diverse Cities in America. Vegas is known for it's strong artistic culture and there are many festivals and celebrations with performers merging from all over the world.
Las Vegas Airport estimates a record breaking 40-million visitors this year and has just opened the new Terminal 3, International terminal. On the business front, The term "Silicone Las Vegas" has been emerging in certain spheres beyond the futuristic look of Las Vegas high rise condos as internet entrepreneurs and companies such as Zappos.com are making Vegas home. McCormick says that Vegas literally went from the #1 worst market in America for foreclosures and emerged into a new opportunity. Trulia research has ranked Las Vegas as the #1 city in America for price-to-rent ratio where buyers can get an immediate cash-flow on rental properties.
McCormick says that investors are scooping up Las Vegas condos and homes for rental properties and offering cost effective living conditions to renters. Opportunities like these have not been this viable in many years where home prices have been considerably reduced, interest rates are also experiencing an all-time low, but rents are remaining the same. The Las Vegas service industry is a cornerstone to Las Vegas real estate success as occupations such as valets, bartenders, cocktail waitresses and strippers make cash every night. McCormick says that landlords know that these service industry renters can make rent by going to work and making cash that night in tips.
In 2011, The National Association of Realtors reported that investment home purchases had increase to nineteen percent. This was a two percent increase from 2010. A survey done by the Local Market Monitor confirmed that the profits earned by investors buying in Las Vegas were higher than anywhere else in the nation. Investors or home buyers can reach Ashley at 1-702-523-0916 with questions or concerns regarding buying or selling Las Vegas properties. There are currently less than 4,000 Las Vegas homes and condos on the market thru the MLS that can be viewed online at http://www.LasVegasRealEstate.org