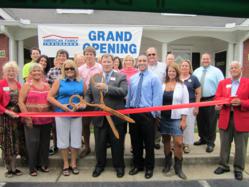 'Michael Ashby American Family Insurance is successful because providing great service to customers is Mike's priority. I'm honored to be part of this celebration of his success,' says Natalie Lugo, Manager of Alliance Marketing at AAA Restoration Company
Fayetteville, Ga. (PRWEB) August 24, 2012
Michael Ashby has helped people choose the right insurance for more than 17 years and the opening of a new Fayetteville office for his American Family Insurance agency is a natural progression for growth. The new office is located at 101 Devant Street, Suite 303 in Fayetteville, Ga. Michael Ashby American Family Insurance can be found on-line at http://insurance-agency.amfam.com/GA/michael-ashby/ .
"We appreciate our customers and recognize their value to our business. Our customers made this grand opening possible and I'm glad so many of them were able to be a part of the celebration," states Michael Ashby of American Family Insurance. The August 21, 2012 official ribbon cutting ceremony for the new office included food and fun. Guests enjoyed snacks courtesy of the Brand Mortgage tailgating trailer while networking with their neighbors.
"Michael Ashby American Family Insurance is successful because providing the very best service to his customers is Mike's only priority. I'm honored to be part of this celebration of his success," says Natalie Lugo, Manager of Alliance Marketing at AAA Restoration Company.
For the fifth consecutive year, American Family Life Insurance Company (AFLIC) is on the list of 50 top-performing life-health insurance companies as selected by consulting firm Ward Group. Achieving top-performance recognition and ratings year after year from industry experts such as Ward Group, A.M. Best, and Weiss Ratings is hard-earned. Learn more about American Family Insurance and its financial health on-line at http://www.amfam.com.
For additional information on Michael Ashby American Family Insurance or its new office, please contact Mike Ashby or visit http://insurance-agency.amfam.com/GA/michael-ashby/.
About American Family Insurance
American Family Insurance wants to make customer's experience easy and convenient. Its approximately 3,500 independent contractor agents are local, knowledgeable and trusted advisors. Its mission is to be the most trusted and valued service-driven insurance company.
About AAA Restoration Company
AAA Restoration Company is a one-stop, single-source solution for any homeowner disaster, (aaarestorationco.com).
AAA Restoration Company is a family-owned business serving clients in 15 Metro Atlanta and Metro Nashville counties. Using methodology created from years of reconstruction industry expertise and experience, AAA Restoration Company helps property owners restore their homes and businesses.