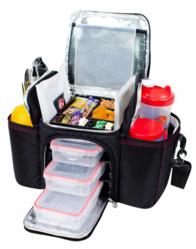 San Francisco, CA (PRWEB) August 28, 2012
6 Pack Fitness, creator of the innovative DURUS meal management system, has recently partnered with New Evolution Ventures to expand its product distribution throughout major metropolitan markets in the US.
As a result of the partnership, the 6 Pack Fitness DURUS meal management system is now carried in over 40 Crunch Fitness locations, and five UFC Gym locations. These workout centers are known for unique and creative fitness elements not offered in most other traditional gyms. Nutrition education is also a strong aspect of the personal training philosophies held by Crunch and UFC, making their distribution of the DURUS meal management system a natural choice.
Since its inception, the 6 Pack Fitness DURUS meal management system has been widely embraced across the health and fitness industry. 6PF products provide high performance athletes and bodybuilders with the means to access the nutrition they need, when they need it, making travel with meals, proteins and supplements effortless.
For more information, visit http://www.sixpackbags.com.