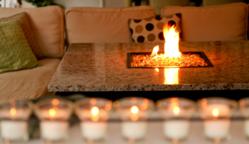 Fire. Table. Grill. Fun. | All-In-One
Orlando, FL (PRWEB) August 22, 2012
Firetainment, Inc., producer of quality fire tables and supplier of a variety of outdoor living products and accessories, expands their line of products for both rental and purchase.
With more versatility and convenience than traditional wood burning fire pits, fire tables combine function and style in a single entertainment unit. Due to fire tables offering the ambiance of fire and also the functionality of a table and cooking unit, Firetainment is seeing increased demand for their products. "The concept behind the fire table is that it performs three functions in one: fire + table + cooking; thus providing the ultimate entertainment experience. Firetaining also brings friends and family together," said Kevin Fulp, CEO/President of Firetainment, Inc.
Firetainment tables are manufactured In the U.S.A. and are sold in both commercial and residential markets. This product is a new entertainment option for residential settings, resorts, country clubs, vacation homes, clubhouses, restaurants, bars, nightclubs, and spas. Consumers looking for new ways to entertain at home are finding that the fire tables are versatile and perfect for entertaining friends, enjoying an evening with family, or creating a relaxing, romantic evening. Using a patented cooking mount the fire table can be converted into a stovetop allowing the use of a griddle, wok, Dutch oven, salt stone and many other cooking options. Cooking with the fire table allows for an array of meal options such as quesadillas on the cast iron griddle, searing tuna on the salt block, serving cheese fondue, or simply roasting marshmallows. The fire table can be used for breakfast, lunch, dinner, appetizers, and/or desserts.
The Firetainment table is available with granite or aluminum tabletop surfaces along with various base and glass stone options. Custom sizes and colors are also available. The fire table aluminum rental model can be wrapped with any custom design. This is a new concept in special event entertainment for weddings, rehearsal dinners, engagement parties, corporate events, birthdays, reunions, sweet 16 parties, graduation parties, bar mitzvahs/ bat mitzvahs, grand openings, and many more. Because of the quality and versatility of fire tables, Firetainment believes they will continue to see growth in the residential, commercial and rental markets.
More information about Firetainment is available online at http://www.firetainment.com. For videos on Firetainment visit:
http://firetainment.com/what-is-firetainment/
http://www.youtube.com/user/xFIRETAINMENTx?feature=
Prime Pinnacle, LLC is providing operating capital for Firetainment, Inc. Prime Pinnacle focuses on alternative capital investments in well-secured PPMs (private placement memorandums) as well as financial investments in small to medium sized companies. Prime Pinnacle's philosophy is to provide our members with capital preservation and growth through a well-designed business plan, capable management, effective cost control program, significant earning capacity and solid debt management. Prime Pinnacle provides management, marketing, sales, promotions and advertising for all our corporate partners and joint ventures. For more information visit http://www.primepinnacle.com.