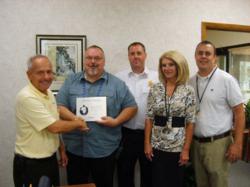 KOKOMO, INDIANA (PRWEB) August 22, 2012
Brenneco Fire Protection presented Kokomo Civic Center with the distinguished Sprinky Award Thursday August 16, 2012. Kokomo Civic Center was commended for its diligence and commitment to fire safety.
"There is no such thing as being too careful when it comes to preventing a fire emergency," says Eric Flora, owner of Brenneco Fire Protection. "Kokomo Civic Center understands this and does everything they can to ensure they have the best safeguards in fire protection in place and up to date."
Brenneco Fire Protection has been performing inspections at Civic Center Towers of the Kokomo Housing Authority since 2004. Inspections include quarterly fire sprinkler inspections for their entire sprinkler system and annual inspection of their fire pump and one wet standpipe.
"The safety of the citizens of Kokomo is always a primary concern," Kokomo Mayor Greg Goodnight stated. "I am very pleased the Kokomo Housing Authority has been recognized for their proactive efforts to protect Civic Center Towers residents."
"Our highest priority is resident safety and to ensure a safe and comfortable environment for those who call our facilities home. We are very pleased to receive this award acknowledging our efforts," said Debra Cook, CEO of Kokomo Housing Authority.
Past recipients of the Sprinky Award include the City of Lafayette, IU Health Arnett and Cook Biotech.
Brenneco Fire Protection
Brenneco Fire Protection, based in Carroll County, serves all of Central Indiana with the best defenses in fire protection. Our expert team provides installation, service and inspection services for customers who believe that keeping their businesses and homes safe is a top priority. We service any size industrial, institutional, commercial or residential building. Being trusted advisors for our customers and providing the best safeguards in fire protection are at the foundation of our operations. Check out the fire inspection checklist to find out how well you are protected from the threat of a fire.
The Housing Authority of the City of Kokomo
The Housing Authority of the City of Kokomo offers affordable, safe, sanitary housing for low income and very low income individuals and families. Civic Center Tower and Terrace Tower offers secure living for both elderly and disabled. Garden Square, Dunbar Court, Pine Valley, Superior Street Apartments, and Scattered Site Housing provides for various family sizes and individuals.
In addition to public housing, KHA administers the Housing Choice Voucher program which subsidizes rent payments to private landlords on behalf of eligible clients.
Kokomo Housing Authority also offers a Home Ownership Program to participants in both the Housing Choice Voucher Program and Low-Rent Public Housing Program. This program empowers working and low income persons and families to move off of government assistance and into the economic mainstream through home ownership.
###
Click here for access to a downloadable picture of the awards presentation. Suggested cutline: "Wayne Flora of Brenneco Fire Protection (from left) presents the Sprinky Award to Tom Barlow, Systems Administrator for the Kokomo Housing Authority; Nick Glover, Fire Inspector for the Kokomo Fire Department; Debra Cook, CEO of Kokomo Housing Authority; and Jeff Kearnes, Deputy Director of Kokomo Housing Authority."