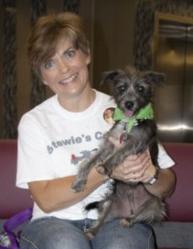 Phoenix, Ariz. (PRWEB) August 23, 2012
AAM has helped raise $12,000 this past month for the Arizona Humane Society (AHS), helping the non-profit agency come closer to reaching a goal of $75,000. AAM participated in AHS's six week community engagement fundraising campaign called Project 121: Action for Animals. On average the AHS takes in 121 animals each day and funds are always in demand.
The Tempe-based AAM manages hundreds of community associations in Arizona, New Mexico and Florida and company president Amanda Shaw is a true critter-lover with four dogs, two cats, a goat, horses and donkeys. Having rescued dogs herself, she personally understands the costs involved with caring for abandoned or discarded animal until a good home is found.
As part of the fundraising effort, AAM created "Stewie's Crew" to raise their money, named in honor of Shaw's latest rescue dog, Stewie – a loveable mutt who had been thrown from a speeding car onto the road. A Good Samaritan picked him up and took him to the closest office building, which happened to be the headquarters of AAM. When Shaw saw how badly injured the animal was she rushed him to a veterinarian and he later became a permanent member of Shaw's menagerie.
"There are so many vulnerable animals that have been treated so badly by their owners. It's truly incomprehensible, which is why AAM wants to help provide some care and love to the animals that come to the AHS," said Amanda Shaw, AAM President.
AAM had some fun and got employees involved with various ideas and staged fundraising events with its employees and business partners. Events included: Covered Parking Raffle, laptop computer raffle, selling t-shirts, AAM Pet Mascot where employees sent in pictures of their pet and solicited friends to vote at $1/vote, Pancakes for Puppies where each AAM satellite office provided pancakes and charged for the breakfast, and the company wrapped up with a big event "Wild Dogs in the Parking Lot" where vendors donated and cooked hot dogs and money and AAM rounded up participants who all paid for the food, and the "Cat's Meow Boutique and Rummage Sale."
"AAM strongly believes and supports the idea of giving back to the community which has become part of our philosophy of "Creating a Better America One Neighborhood at a Time." Supporting AHS is just one more way that AAM can get involved and help make a difference," said Shaw. For more information: http://www.aamaz.com.
AAM works with many of the largest homebuilding and community development companies in the United States such as Del Webb/Pulte, Shea Homes, and Meritage Homes. Founded in 1990, AAM employs 300 people and manages hundreds of homeowners associations in the United States. The company is a member of the Alliance Management Network, an invitation-only coalition of HOA management professionals dedicated to furthering industry professionalism, as well as a number of other HOA management services-related groups. AAM is dedicated to delivering total peace of mind to the boards of directors and homeowners in the communities it manages. http://www.aamaz.com.