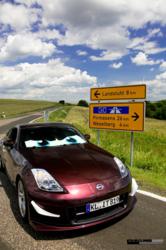 I am grateful, people really seem to love the sunshades. We took a chance with the launch of the new product so of course it's a great feeling to see this terrific response...and they are selling well
(PRWEB) August 23, 2012
Is this summer hot enough? With a winner take all $1000 Cash contest running, 5000 new Facebook fans in 2 months, over 1500 car & truck accessories for sale online, and now a product giveaway, the good folks at mAutoStore.com sure think it is.
Following the successful launch of the online retailer's own line of Eyes Car Sun Shades "mSters" (as their fans are now dubbed) have been watching the Sun Shade Sweepstakes Promo Video on Youtube, commenting on Facebook and creating an online community-feel for the company and the sweepstakes.
With mAuto gaining 5000 fans in just a few months, the company is now giving away its new Eyes Sun Shades as a thank you - there are three different shades to choose from. The company expects to give away hundreds more new sun shades for free while supplies last and yes, shipping is free too.
Now not only can one own a cool and fun car sunshade for free, there is still time to get in on the sweepstakes for a chance at the cold-hard cash.
Entering the Sweepstakes is easy, participants are only required to submit one photo of their favorite Eyes Car Sunshade on their car also via mAuto Store's Facebook Contest Page. The entry that gets the most votes by the closing date of August 31, 2012 wins the $1000 prize.
With some entries receiving over 700 likes and others copping hundreds of likes, it's still anyone's game, as the contest will certainly end in a photo finish.
Delighted CEO and Founder of mAuto Lester Mapp says: "I am grateful, people really seem to love the sunshades. We took a chance with the launch of the new product so of course it's a great feeling to see this terrific response...and they are selling well too."
Adding: "We really want to connect with our customers and the feedback has been unbelievable, there is a lot of engagement." Indeed the buzz in on with the mAuto Store's Facebook page boasting with one fan saying: "If you want to be cool get this sunshade because it makes you a BAMF".
mAuto Store is an online car accessories retailer and manufacturer based in Aventura, Florida. The company whose USP is "You Drive Us" offers a unique online shopping experience for customers and features products developed based on customer feedback. Media Contact Team mAuto 1-888-820-4940 Social(at)mautostore(dot)com