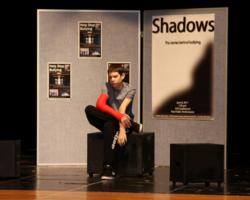 Kudos to the entire CCU team! You make NJEA proud.
Trenton, NJ (PRWEB) August 23, 2012
The National Academy of Television Arts & Sciences (NATAS) Mid-Atlantic Chapter announced the 2012 nominees. Classroom Close-up, NJ, NJEA's half-hour television show, received four Emmy nominations.
Nominated in the Education/Schools Program Feature or Segment category is Get on the Wall – about a mural club at Reading-Fleming Intermediate School.
In the Public/Current/Community Affairs Feature/Segment category, a story about Shadows, a drama about bullying developed by students at Franklin High School in Somerset, was nominated.
Two full shows were also nominated. In the Education/Schools Program/Special category, includes four segments. Dewey Who? features Seaview Elementary dads and third graders as they learn about the Dewey decimal system. Real Men Read is a literacy project for boys at Thomas E. Bowe Elementary School in Glassboro. Teaching From Space highlights educators from Mountview Road Elementary School in Hanover Township who bring their experience from NASA back to the classroom. Educaching follows students at Woodland School in Barrington as they learn about GPS technology through a treasure hunting activity called educaching.
The second full show nominated is in the Public/Current/Community Affairs Program/Special category. Four segments in this nomination include Exceptional Students Climb Mountains, a story about group of students at Warren Hills Regional Middle School who hike the Appalachian Trail to symbolize the challenges they have overcome during the school year. Interact in New Orleans explores the lessons learned by Raritan High School students during a trip to help New Orleans Habitat for Humanity build homes for families affected by Hurricane Katrina. Day School shares an unforgettable day with students at the Piscataway Regional Day School, a facility for students with severe multiple disabilities. Holocaust Diaries features students from Randolph High School in Morris as they preserve the history by interviewing Holocaust survivor Clara Kramer.
Watch the nominated segments.
Kudos to the entire CCU team! You make NJEA proud.
The Emmy Awards program will be held Saturday, Sept. 22 in Philadelphia.
Classroom Close-up, NJ is beginning its 19th season. The program is available online at njea.org and airs on NJTV on Sundays at 6:30 a.m., 12:30 p.m., and 7:30 p.m. and Saturdays at 5:30 a.m.