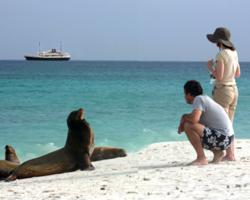 The Evolution had a great group of travelers and a great group of staff.
Helena, Ala. (PRWEB) August 22, 2012
Last minute adventure travelers can take advantage of free international and in-country airfare on two Galapagos adventures offered by nature travel expert International Expeditions. Travelers on IE's October 26 and November 9, 2012 Galapagos Islands cruises will save an average of $1,100 per person by combining roundtrip airfare from Miami on LAN Airlines with flights to the islands — all while enjoying an immersive look at Darwin's "Enchanted Isles."
On the 10-day Galapagos Islands cruise, guests travel aboard the 32-guest yacht M/V Evolution, enjoying a 2-to-1 guest-to-crew ratio, spacious cabins and a casual atmosphere while exploring. Plus, traveling with small groups of curious, like-minded travelers ensures everyone feels comfortable even in this remote archipelago.
"Never have I seen so many people from all different backgrounds having so much fun together," said Janie King of Las Vegas, Nev., a recent IE traveler in the Galapagos. "The Evolution had a great group of travelers and a great group of staff."
This immersive expedition navigates to captivating islands, where the small group size allows for easy access to the wildlife and far more personal attention than guests find aboard larger cruise ships. Onboard, guests sail in comfort with spacious accommodations, fine cuisine and a host of amenities including an observation deck (perfect for whale watching) and canopied bar, plus complimentary snorkeling equipment, wetsuits and kayaks.
In addition to daily snorkeling and hiking through deserts, rainforests and volcanic terrain, other highlights include a full-day visit to outlying Genovesa (Tower) Island, where larger vessels are prohibited. Genovesa features hundreds of red-footed boobies, short-eared owls and storm petrels, along with the opportunity to snorkel and kayak in the calm caldera of this partially eroded volcano. IE travelers will also stop at the Charles Darwin Research Center, famous for its tortoise breeding programs, and explore Santiago Island, a haven for finches, doves and Galapagos hawks.
Highly trained Galapagos naturalist guides enhance travelers' experiences by sharing their in-depth knowledge and bringing them within inches of giant tortoises, blue-footed boobies, sea lions, penguins and other animals.
Prices for the Galapagos Islands cruises start at $5,098 in 2012 and 2013, and include accommodations, all excursions, most meals, transfers and tips to porters and waiters for included meals.
For information or a Galapagos Islands Cruise brochure, contact International Expeditions at 1-800-633-4734, nature(at)ietravel(dot)com or http://www.IEtravel.com.
About International Expeditions
Celebrating 32 years of engaging nature travel, International Expeditions specializes in small-group journeys to Earth's most exhilarating destinations. A pioneer of environmentally responsible travel, IE is committed to preserving natural habitats and improving the welfare of the people and communities it visits.