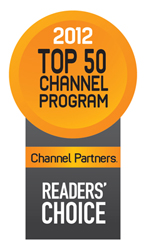 "We've always been very channel-focused. Our reseller and agent partners have been a key part of our success, and we never forget that"
Colin Johnston, EVP of Sales
Sarasota, FL (PRWEB) August 23, 2012
Star2Star Communications, makers of "The World's Most Reliable Communications Solution", today announced that the readers of Channel Partners Magazine voted Star2Star as one of the Top 50 Channel Programs in the industry. This is Star2Star's third consecutive appearance on the list.
"We've always been very channel-focused", said Colin Johnston, EVP of Sales at Star2Star. "Our reseller and agent partners have been a key part of our success, and we never forget that", he continued.
Channel Partners readers selected the Top 50 winners from a slate of over 200 companies, including carriers, resellers, master agencies, and telephony products vendors.
About Star2Star:
Founded in 2006 in Sarasota, Florida, Star2Star Communications develops and delivers Integrated Communication and Collaboration solutions that connect and enable Productive Business People. Star2Star's award-winning, patent-pending technology overcomes the reliability and quality limitations of other Internet communications technologies.
Star2Star achieved 100% network uptime in 2011. The company was recently named to the Inc. 500 for the second year in a row, and was also named as one of Forbes Magazine's Most Promising Companies.
Star2Star products are sold through a diversified international network of distributors, master agents, and certified installing dealers. Available across North America, Star2Star Internet communication systems are installed in thousands of businesses and in many large national retail and restaurant chains.