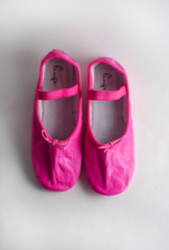 Ballet Style Everyday
Seattle, WA (PRWEB) August 23, 2012
Linge Shoes ballet flats are available in eight different colors for back to school shopping. Linge Shoes provides ballet flats that are made from soft genuine leather and are offered at an affordable price ($59). Ballet flats are the ideal new shoe when shopping for back to school basics. These ballet shoes are fashionable, versatile and provide comfort for girls and teens.
The ballet shoe is a staple in every girl's wardrobe and can be worn throughout most of the school-year. Linge Shoes are a great investment for a flat that can be worn in all types of scenarios from the first day back at school, to events throughout the calendar year and casually on the weekends. Linge Shoes have flats available in eight colors: white, black, navy, fuchsia, charcoal, teal, red and nude to ensure that there is a shoe for any young girl's sense of style.
Linge Shoes has created their ballet flats with the traditional lines of a ballet slipper but made for everyday wear. They are popular amongst dancers, style-conscious teenagers and women of all ages.