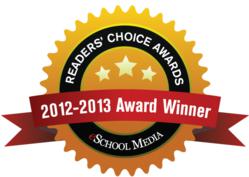 The Insight 360 system is so easy, so comfortable, and so powerful that I believe it to be the holy grail of response products.
Scottsdale, AZ (PRWEB) August 22, 2012
eSchool News, a leading resource for news and information on how today's K-20 educators are using technology in the classroom, named eInstruction's Insight 360™ formative instruction system one of the "Best Ed-Tech Products" in its 2012-13 Readers' Choice Awards.
Insight 360 was among hundreds of products nominated by nearly 1,300 readers of eSchool News, eCampus News, and eClassroom News. The eSchool Media editorial team selected the top 50 products that improve teaching, learning and school administration, for its "Best Ed-Tech Products" list.
Mark Hupp, director of technology for Salt Creek 48 schools in Illinois and nominator of eInstruction's software suite, said, "The Insight 360 system is so easy, so comfortable, and so powerful that I believe it to be the holy grail of response products. The ability to tag almost any file format…means that it is not only platform agnostic, but also software agnostic." Hupp went on to say his school's use of eInstruction technology has "driven math achievement off the charts."
Insight 360 is the first all-in-one classroom instruction system that enhances teachers' instruction while fitting within their own teaching styles, using their preferred content, and leveraging existing technology already in their classrooms. Insight 360 allows teachers to interact with their students as they learn, quickly gaining insight into student understanding during class so they can adjust instruction in realtime during a single class session.
"Tools that enhance instruction and provide an engaging, interactive experience for students are proven to result in greater student achievement," said Shelly Bodine, Vice President of Marketing for eInstruction. "Insight 360 is the first product that provides these benefits to teachers without asking them to change how they teach. Having our product earn the Readers' Choice Award confirms the difference we are making in helping educators drive academic progress every day."
Available for purchase as a complete system or as individual software packages, Insight 360 can be integrated into any classroom's existing technology and supports instruction and assessment content in multiple formats including Microsoft Office, Adobe Suites, Google Docs, video, and online. Teachers using a Mobi 360 mobile interactive whiteboard or an iPad can use the award-winning Insight 360 software to conduct real-time assessments with students using eInstruction Spark and Pulse handsets.
To learn more about eInstruction, please visit http://www.einstruction.com. For media inquiries, please contact Amy Bowman at Stanton Communications at (410) 727‐6855 or abowman(at)stantoncomm(dot)com.
About eInstruction®
eInstruction is a leading education technology company dedicated to providing interactive teaching and learning technology and services that help educators drive academic progress every day, and give administrators the ability to monitor, aggregate, and analyze student performance data. The company offers educators a family of software, student response systems, fixed interactive whiteboards, mobile interactive whiteboards, professional development, and content.
eInstruction's research‐based solutions have been shown to increase student engagement and achievement while providing real‐time feedback and performance data to educators and administrators. Millions of students, teachers, and professors use eInstruction® technology in 600,000 K‐12 classrooms and more than 500 higher education institutions around the world. Available in more than 40 languages, eInstruction® technology is enhancing education in over 90 countries worldwide.
eInstruction has its global headquarters in Scottsdale, AZ and remote offices in Denton, TX; Fort Wright, KY; and Paris, France.