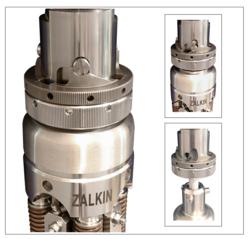 Athens, GA (PRWEB) August 23, 2012
Fowler Products, powered by Pro Mach, now offers an innovative quick-release capping head for companies in the distilled spirits, pharmaceutical, and chemical industries that use the same capping machine for different types and sizes of roll-on, press-on and screw-on caps. The quick-release capping head is designed for both new Fowler/Zalkin capping machines and as a retrofit for existing Fowler/Zalkin applications.
The new capping head features a precisely fitted bayonet-style mount rather than the traditional threaded connection style, which opened the potential for damage through cross threading. The bayonet-style mount with a slide-and-lock head eliminates the possibility of cross threading. This new style mount also saves considerable time during changeovers and ensures that operations personnel are less physically taxed while handling the 12 to 18 pound heads.
"The development of the new style of coupling is timely as there is a renewed interest in running multiple closure formats such as roll-on and screw-on caps on the same machine, especially in the spirits, pharmaceutical, and chemical industries," said Andy Monroe, Fowler's Sales and Marketing Manager. "It was quite a challenge for us to design a head coupling that delivered quick-change but we're proud that this new head meets all of the performance criteria required by roll-on and press-on, and screw-on applications."
For more information on Fowler Products solutions for capping, cap handling, bottle cleaning, filling, and cap sterilization, call 1-877-549-3301 and visit http://www.fowlerproducts.com.
About Fowler
Fowler Products was founded in Athens, Georgia, in 1952. The company has partnerships with Andre Zalkin & CIE, Perrier Bottling Systems, and Claranor, all French companies. In 2000, Fowler became a division of the Pro Mach group of packaging companies. For more information on Fowler products, services, and contacts, please visit http://www.fowlerproducts.com.
About Pro Mach
Pro Mach, Cincinnati, Ohio, is a leading provider of integrated packaging products and solutions for food, beverage, household goods, pharmaceutical, and other diverse consumer and industrial companies. Through three business units and related divisions, Pro Mach provides equipment, training, installation, and parts in primary packaging, end-of-line packaging, and identification and tracking. http://www.ProMachInc.com