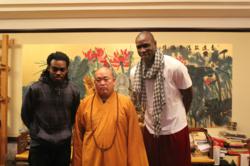 Newark, NJ (PRWEB) August 22, 2012
Criminal Defense Attorney Nahas signed hip-hop artist and songwriter Arioose after the artist sought after Nahas while learning to write, produce and engineer music in a juvenile prison. While in prison for an armed robbery, Arioose reflected upon his life and took positive steps in his development and planning a career in music after his release.
"Arioose told me he was dedicated to pursue his dream of becoming a rapper but him actually showing me convinced me to help. I thought the first 20 song demo I received was exceptional and I was his only outlet to the professional world," says Karam Nahas.
Nahas took interest in the still young aspiring talent after hearing his prison demo and after Arioose demonstrated that he had changed his mindset from being a gangster to a young professional businessman. Nahas and partner Josue Altomonte recently funded a trip to Asia where the rapper spent nearly three weeks in China, and several days with the Shaolin Abbot at the Shaolin Temple in China.
After witnessing Arioose's progression and development as a professional music artist the partners gave the young convict the nod and funded his first professional music video and single called, "Supply and Demand," making a statement the music industry in both the song and video.
"When I looked at the previous videos I was a bit discouraged. I saw raw talent but it was not at the level of a major label artist. In order to compete in the music business you need the storyline but also quality production. Video is as important as the music and the music is critical," says Richard Victor Mahee, Mahvrick Networks.
Altomonte, Nahas and Mahee came up with a business plan after spending several days in Miami speaking to DJ Radamas, Bla G, and Marco Mall from Florida Film House to turn the video into a series of music videos that would consist of a short feature film series that would be shopped to film festivals and capture Arioose's character and brand as he describes in his tagline, "Haitian blood. Italian swag. Spartan heart. Russian mags.
Supply and Demand is a graphic "R" rated four minute movie trailer music video that features scenes of a Haitian mob boss wielding a sword, a diamond deal gone bad, a sexy Russian dancer licking and fondling a pistol, a Maserati Grandturismo, AK-47's, and a whole lot of other guns, weapons and scary individuals.
The video tells a short story of betrayal and retribution that ends with a mob style execution and a lesson learned in business. Arioose compares himself to Al Capone touting a tommy-gun wrapped in a Haitian flag and rapping "Like any other man, I supply and demand."
The statement that Arioose is making to the music industry is that "I make the market" and Arioose will take advantage of market situations. There is a demand in a market of genuine hip-hop fans and music lovers for real, gangster rap and musicians with real stories Arioose intends to supply this demand in this digital market where consumers constantly crave more content that has substance, is real, and entertaining.
Supply and Demand and each subsequent video will tell a movie-like story of organized crime with Arioose's music as the featured soundtrack. The videos, independently and taken together, will portray Arioose's character and brand. Supply and Demand was written by Arioose, produced by RKE, and directed by Redd Pen Media.
Arioose is a hip-hop artist and songwriter from Elizabeth, New Jersey. He's performed on the Van Warped Tour, MMA events, Boston UFC Fan Expo, and recently in China. Arioose writes and performs all his own music based on his life and meant to pass knowledge on to his listeners. Although a gangster rapper, Arioose has also been commended for showing young kids how music can be used to inspire, educate, and influence consumers in the area of product branding.
RoughKut Entertainment (RKE) is an artist management firm that manages Arioose and headed by his former criminal defense attorney. RKE's goal is to manage and develop artists' with raw talent into a refined and viable commercial brand and product.