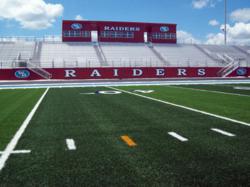 It's a nice way to remember those who lost their lives.
New London, TX (PRWEB) August 24, 2012
The final touches are being completed to Bruce Bradshaw Stadium at West Rusk High School, and among them are the brand new Matrix® Turf field and epiQ TRACKS™ S200 running track system. The upgrades to the field and track are just two of the long list of improvements to the schools athletic facilities, including the grounds around the football field and track.
The added durability, superior performance and low cost to maintain the synthetic football field and running track are some of the many attractive benefits Hellas Sports Construction's products and services provide. The best-in-class Matrix® Turf will allow West Rusk High School to utilize the field more often and with a more consistent playing surface. In addition, the drainage system below the turf surface will help protect their investment and make the field playable with minutes of heavy rain.
On the turf field there are small symbols placed in honor of the tragic explosion that occurred in 1937, when West Rusk High School was known as the London School. John Frazier, West Rusk CCISD's Athletic Director and Head Football Coach, explained how the idea first came about.
"During a coaches meeting last fall, I told the coaching staff to think of anything unique that we could do with our stadium. A few days later, Coach Chris Johnson came up with the idea to have the tickers on the 37-yard lines painted gold…It's a nice way to remember those who lost their lives."
Two scrimmages will have already taken place when the Raiders host Harleton during their season opener on August 31 at 7:30 p.m. If you happen to catch some of the action, look out for the gold hash marks on the new field's 37 yard-lines.
Matrix® Turf and epiQ TRACKS™ are exclusive innovation of Hellas Sports Construction. Hellas specializes in the general construction of sports facilities and manufacturing synthetic sport surfaces for various sports. Hellas controls all business processes, delivering quality athletic surfacing products directly to customers, including marketing, sales, quality control and project management. For more information visit: http://www.hellasconstruction.com.