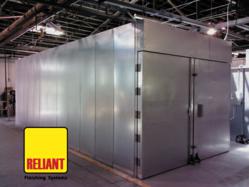 Somerville, AL (PRWEB) August 24, 2012
Reliant Finishing Systems announced today they are exhibiting at the upcoming SEMA 2012, October 30th thru Nov 2nd in Las Vegas, NV. The SEMA Show is the premier automotive specialty products trade event in the world and will feature educational seminars, product demonstrations, special events, networking opportunities and more.
Last years SEMA show was attended by more than 60,000 international and domestic buyers. Josh Strickland, Executive Director of Marketing and Brand Development for Reliant Finishing Systems, is looking forward to the opportunity to interact with new customers and distribution networks. "Over the past several years, we have seen an increased interest in our powder coating equipment offerings from clients worldwide, and SEMA is a perfect opportunity to connect directly to this growing segment."
Reliant Finishing Systems is one of the fastest growing powder coating equipment manufacturers in the United States. Based out of northern Alabama, Reliant provides both industrial automated finishing lines as well as batch powder coating ovens, spray booths, media blast rooms and custom manufactured finishing solutions. Visit Reliant Finishing Systems at the SEMA Show at Booth 11380, or find them online at http://www.reliantfinishingsystems.com
Note: The SEMA Show is a trade-only event and not open to the general public.