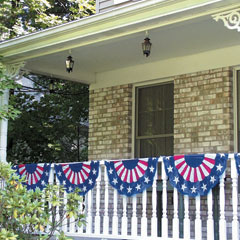 Chicago, IL (PRWEB) August 23, 2012
Labor Day began in the late 19th century to honor those working 12 hour days, seven days a week in unsafe working conditions. Most worked very hard to receive very little pay and began to protest. Ever since then, Labor Day is celebrated every first Monday of September by taking the day off from work and school. Most people also recognize Labor Day as an end to the summer. Windy City Novelties offers a collection of Labor Day party ideas to ensure the Labor Day weekend and end-of-the-summer celebrations are fun and festive.
Nothing is more American than grilling hamburgers and hotdogs, so host a barbecue or picnic with Patriotic Paper Goods. Pick and choose from a variety of different red, white, and blue themed paper plates, cups, and napkins. Windy City Novelties provides stars & stripes table covers to put over picnic tables and add some festive fun to the get-together. To let everyone know the location of your party, hang up a custom stars & stripes banner with balloons. If there is going to be children present, they will need to be occupied with patriotic toys, such as kickballs, footballs, and much more.
Parades are an age-old Labor Day tradition. Get into character by dressing up as one of America's icons from the 19th century. Choose from different patriotic costumes that consist of Abe Lincoln, Ben Franklin, and of course, Uncle Sam. Sport matching costumes with a significant other and walk in the parade or attend a party as Martha and George Washington. Instead of wearing an entire costume, a splash of red, white and blue can be added to any outfit by wearing a patriotic top hat, skimmer, cowboy hat, fedora, or glowing star headband.
Enjoy the last days of summer by having a pool party or a party on the beach. Patriotic beach balls will get the fun rolling. Bring patriotic paper goods and Americana food favorites for a relaxing picnic on the beach. Many Americans choose to spend their weekend boating, so decorate the boat with red, white and blue bunting as well as many other decorations before putting the boat away for the fall and winter months. Once the sun starts to set, stand out by wearing one of the many patriotic light-ups and break out the glow sticks to keep the fun going well into the evening. Celebrate the end of summer and Labor Day with the help of Windy City Novelties!
ABOUT WINDY CITY NOVELTIES
Windy City Novelties, a party supply company founded in 1983, is known for their great selection and competitively priced items. They have an A+ rating from the Better Business Bureau and are also a NexTag 5 star Seller. From their website, windycitynovelties.com, they offer fast and friendly shipping along with great customer service. From glow products to party decorations in a variety of themes, and even a vast selection of Halloween costumes at the best prices, Windy City Novelties has over 15,000 products and adds more each week.