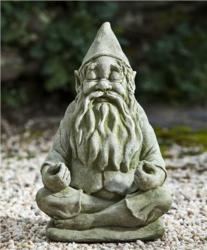 Campania International gets more Zen with the new additions of Big Fred.
Metairie, LA (PRWEB) August 26, 2012
This peaceful gnome garden statue sits in the classic meditative position with his legs crossed and his hands on his knees. His eyes are closed as he thinks "Ommmm." Big Fred is 14 ¼ inches tall, and he weighs in at 26 pounds. His long beard and pointy hat makes him unmistakable for a garden gnome, but the serene look on his face will add a tranquil whimsy to outdoor decor.
The other members of the Totally Zen family are the Totally Zen Frog garden statue and its smaller counterpart, Totally Zen Too Frog garden statue. These amusing animal statuary have been a hit with customers since their inception, and the addition of the Totally Zen Gnome outdoor statue is the perfect fit to the collection.
Campania International is the best outdoor decor company in the country. Specializing in cast stone products, Campania creates animal statues, garden statues and more for all kinds of outdoor spaces. From small balconies and patios to vast landscapes, cast stone products are ideal for outdoor decor. This durable material is commonly used in the construction of large buildings, and it will age naturally and gracefully.
In addition to Totally Zen characters, Campania International has created a collection of hundreds of garden statues of all kinds. Animal statuary, classic garden statues and more are all expertly created and crafted for long lasting outdoor decor. Cast stone garden fountains, outdoor planters and garden benches are also part of what makes Campania International stand above the rest.
TheGardenGates.com is a premier retailer of products from Campania International and also carries a wide range of items and furniture for outdoor decor. Explore The Garden Gates' online boutique for the best in home fragrances, home decor, gifts and women's products as well as seasonal favorites. Discover lasting style for the everyday life at TheGardenGates.com.