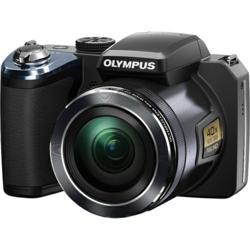 B&H Photo Video is pleased to share the launch of the Olympus SP-820 Stylish 40x Optical Super-Resolution Zoom point & shoot digital camera
NYC, NY (PRWEB) August 23, 2012
B&H Photo Video is pleased to share the launch of the Olympus SP-820 Stylish 40x Optical Super-Resolution Zoom point & shoot digital camera.
The SP-820UZ iHS digital camera from Olympus features an incredibly powerful 40x optical zoom lens which has a 35mm equivalency of 22.4-896mm! With a lens like this, you'll need no other. From true wide angle all the way to ultra-telephoto, this lens will shoot a wide expansive landscape then zoom in to get a clear, full-frame shot of the deer off in the distant middle of that landscape. It's hard to understate the power of an 896mm reach, it will bring far away subjects breathtakingly close and the wide angle lengths are open enough to shoot all your friends gathered around the dinner table or the entirety of a beautiful interior. Of course, these focal lengths won't mean much if the quality of the images aren't good.
Fortunately, the Olympus SP-820UZ has that covered thanks to its 14MP CMOS Sensor and TruePic V Image Processor. Together, Olympus terms this their iHS technology or Intelligent High Speed and High Sensitivity. It's a very accurate term because the image quality and camera performance of the SP-820UZ is well above standards. And thanks to its dual image stabilization system, photos taken with its extremely long lens and shots taken in low light will come out blur-free and with sharp details.

An amazing 14 million pixels in the high-resolution CMOS sensor create superior image quality. Create poster-sized prints without losing a single detail.
40x, 22.4mm Ultra Wide-Angle Optical Zoom Lens -- Olympus' longest optical zoom to date. It propels you into the action when you can't get closer, like at a concert or a sports arena, and it's perfect for snapping skittish wildlife.
80x Super Resolution Zoom. Get twice as close. Double your effective zoom power and get even closer to your subjects.
3.0" High-Resolution LCD The huge 3.0-inch LCD features an extra-wide viewing angle for easier composing and shooting, and perfect for watching the high-definition movies you capture.
1080p Full HD Video A simple one-touch button allows you to record videos with amazing clarity in high-definition right from your camera. And with Linear PCM recording, the same technology used in Olympus's professional voice recorders, your HD Videos will be accompanied by higher-than-CD quality audio. HDMI output and control makes playing back videos on your HDTV a breeze. Want high speed recording for slow motion playback? The SP-820 is equipped with HSQVGA recording up to 240 frames per second.
iHS Technology
A powerful, DSLR-quality TruePic™ V Image Processor and a CMOS sensor come together to dramatically improve image quality with spectacular low-light performance, blazing fast autofocus, enhanced Intelligent Auto for spectacular scene and subject recognition and Super-Resolution Zoom. It's Intelligent. It's High Speed. It's High Sensitivity. It's iHS.
Read and learn more detail information about the Olympus SP-820 at BH In-Depth
Connect with B&H Photo on the Web! (Facebook, Twitter, Tumblr, Google+, Pinterest, Flickr, YouTube, B&H Insights & InDepth)
About B&H Photo Video
As the world's largest source of cameras, video and audio equipment, B&H Photo-Video is known worldwide for their attentive, knowledgeable sales force, and excellent customer service, including fast, reliable shipping. Visitors to the website can access a variety of enlightening articles and educational videos. B&H has been satisfying customers worldwide for over 35 years.