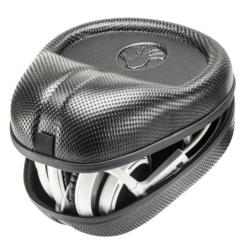 "Any investment in headphones is worth the insurance provided by the HardBody Pro case"
CrisBremner Director of Marketing
Charlotte, NC (PRWEB) August 24, 2012
SLAPPA, LLC maker of professional-quality cases, bags and backpacks designed specifically for laptop computers, cameras, gaming gear and tablets announced today that it has expanded its popular line of accessory cases with the HardBody Pro full-sized headphone case. With the trend in high-end headphones becoming so prevalent, mobile users, DJ's, Gamers and average Joe's are increasingly spending significant sums of money to ensure that they are getting the most enjoyable listening experience possible.
Headphone sales are on the rise and the popularity of Beats by Dr.Dre has been phenomenal especially when considering that the retail price can exceed $300. Michael Phelps seen poolside in Sol Republic earphones has inspired many to emulate him out of the water by wearing the same earphones, much easier than attempting to break records in the water. And for the ultimate listening experience there is the Grado PS1000 at a small investment of $1,700.
"No matter what the investment may be, keeping headphones safe from the damage they will receive if not protected while in transit is exactly why SLAPPA designed the new HardBody Pro full sized headphone case" said Cris Bremner Director of Marketing at SLAPPA. Made of Duro-Shock xEVA materials, the case is water resistant and fire retardant. The molded xEVA shell with an exclusive dimpled covering can take the wear and tear of everyday use and travel of nearly every kind.
While models do differ, this solid case fits most full-sized headphones and is lined with a scratch preventing velveteen lining for the added protection of headphones. Dual molded alloy zipper pulls allow for the case to be opened completely so that headphones may be to set into the case gently, no sliding or pushing headphones into a case is required with the HardBody Pro. Retailing for $29.99 the HardBody Pro case is a small price to pay to protect headphone investments small and large.
ABOUT SLAPPA
Established in 2002, SLAPPA Distribution, LLC engineers, manufactures and distributes innovative products, offering the highest quality backpacks, laptop bags, sleeves and specialty cases for CD and DVD collectors, DJ's, Pro Audio users, Gamers and photographers. SLAPPA has earned a reputation for offering dependable, quality products with unparalleled performance. The company has been recognized for its excellence by leading consumer publications and sites, both in the U.S. and abroad. SLAPPA products are currently available in 14 countries around the world. SLAPPA, LLC continues to actively expand its domestic and international presence with new and innovative products.
SLAPPA is also dedicated to providing professional and amateur gamers with bags and accessories that provide extreme protection for gear while in transit and at tournaments. SLAPPA is proud to sponsor three world class professional Major League Gaming (MLG) teams; Evil Geniuses-EG, FNATIC and SK Gaming. In addition, SLAPPA sponsors LANs (Local Area Networks) in the U.S. and Canada supporting all gamers in their pursuit to perfect their game and grow the sport.
For more information on SLAPPA products including purchases, distribution and our affiliate program please visit http://www.slappa.com