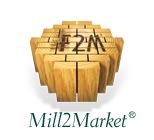 "New additions to Mill2Market reports include: MSR-2400 and #2 Prime dimension lumber and premium and standard decking. We will continue to add more grades and products as we grow," said Bob Bratton.
Charlotte, NC (PRWEB) August 23, 2012
Forest2Market, a provider of market price and trend data and supply chain expertise for the wood products industry, announced today that it has expanded its Mill2Market lumber market reports to include additional grades of southern yellow pine dimension lumber, timbers and decking. The reports now include:

Dimension lumber—MSR-2400 (new), #1, #2 Prime (new), #2, #3 and #4
Timbers—#1 and #2
Decking—Premium (new) and standard (new)
These changes will take effect with the August 16-22 issue of the report, which will be delivered to subscribers on August 23, 2012.
"This is part of a natural evolution for Mill2Market," says Bob Bratton, Manager of Forest2Market's lumber practice. "When we issued our first report in 2009, it contained 76 price points. Now, less than three years later, we report 1,566 individual market price and trend metrics. With every new subscriber, we can report on more products and grades. And we'll continue to add more indicators as we grow."
Mill2Market is the industry's only transaction-based market reporting service. With the analysis derived from this data, Mill2Market subscribers make better-informed tactical and strategic business decisions. This product line includes:
Weekly market analytics, including price, week-over-week price change, weekly volume change, market price variation, mid-week price trend and mid-week volume trend, inform tactical marketing and pricing decisions subscribers need to make in the week ahead.
Historical trend information (from 2009-present) allows subscribers to track prices over time and identify seasonal trends.
A quarterly benchmark tool provides the data that customers need to improve their performance against the market and make longer term strategic decisions.
About Forest2Market
Headquartered in Charlotte, N.C., Forest2Market provides market pricing data as well as wood and fiber supply chain expertise to customers in the forest, wood products, recovered fiber and bioenergy industries. For more information, visit http://www.forest2market.com or read our blog at http://blog.forest2market.com.