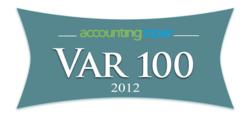 This ranking is a direct result from the culture TMC has created within the organization and can be directly linked to the dedication and hard work by our employees, as well as the trust and relations
Los Angeles, CA (PRWEB) August 27, 2012
Technology Management Concepts(TMC) was named a 2012 100 VAR for a 4th consecutive year by Accounting Today. Annually, Accounting Today recognizes the country's top 100 value-added resellers (VAR) of mid-level accounting software packages. The list which was launched more than a decade ago, selects VARs for the list and ranks them based upon company and revenue size and growth from year to year, as well as the variety and value of the accounting software solutions they provide. The trend amongst the 2012 VAR 100 was expansion to the cloud. TMC joined over one-third of the top value-added resellers on the list now carrying a cloud solution. "The VAR landscape is clearly changing and we are pleased to showcase those that remain at the top of their game. This list is truly representative of the top performers in the field and we are proud to have been recognizing them for over a decade" said Seth Fineberg Technology Editor for Accounting Today.
"We are honored to be named as a Top 100 VAR from Accounting Today again this year" said President of TMC Jennifer Harris. "Accounting Today is a highly respected ERP publication. This ranking is a direct result from the culture TMC has created within the organization and can be directly linked to the dedication and hard work by our team of employees, as well as the trust and relationships we have built over the years with our customers."
With thousands of firms servicing this industry, it is a tremendous accomplishment for TMC to be selected among the top 100 VARs. Along with Accounting Today's report, TMC has consistently received numerous honors from Microsoft as well as outside firms including Bob Scott's Insights VAR 100, which is a leading trade publication specializing in mid-market financial software. TMC who is a Microsoft Gold certified Partner specializing in Microsoft Dynamics GP, NAV, and CRM. They are a leading and highly sought out ERP provider that collaborates with businesses of all sizes. Located in Los Angeles, their client locations range from local to global.
About Technology Management Concepts
TMC is a Microsoft Gold certified ERP partner for Microsoft Dynamics GP, Dynamics NAV, Dynamics CRM as well as a certified NetSuite Solutions Provider. TMC specializes in the implementation of financial and business management systems, helping their customers stream-line their processes and maximize productivity. TMC has been a leading VAR in the ERP world since 1987. For over 15 years, TMC has been a Microsoft Gold Certified reseller and implementer of the most widely used and adopted industry-leading solutions.