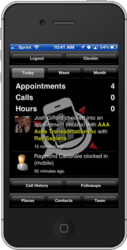 Nashville, TN (PRWEB) August 23, 2012
Call Proof mobile sales tracking app is now available on the iPhone. Call Proof automates sales reporting activities. With the app, managers can easily monitor sales activity of their team by seeing calls made, appointments ran and the location of anyone on the sales team. All of this information is available in real time.
Download the new iPhone app at http://www.CallProof.com and the ITunes store. Android users can download the app via the Google Play Store.
Call Proof makes it easy to sort customers based on GPS location so salespeople can check in with clients and prospects. "The Call Proof app is similar to Foursquare but with your own client and prospect data. We've integrated Google Places with the app so you can quickly add new clients to our CRM. You can add them to the system without having to enter name, company, phone and address. All it takes is one click."
Most salespeople think CRMs are a waste of time. Call Proof simplifies the process by automating many of the tedious tasks.
Call Proof will:

Import/Export customers into database easily
Automatic geocode business addresses
Assign groups of customers to sales people easily
See all incoming and outgoing calls from team*
Automatically record calls into customer history
See all appointments ran for the day
See customers plotted on map
Extensive reporting of activities
Assign points to activities
See customers that haven't been spoken too
See location history of staff
Record calls via the Web Portal
*IPhone app has some limitations for tracking incoming calls.
Sales people will love the ability to spend more time selling and sales managers will love the inherent transparency using the app creates.