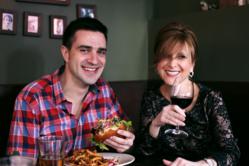 "The EatDrinkJobs process was easy and helped me find a quality position at a quality place. The industry needs this site."
Brooklyn, New York (PRWEB) August 24, 2012
EatDrinkJobs.com is the premier community driven place to find a job in the restaurant and bar industry. The newly launched website is the gatekeeper for restaurants and bars with employment opportunities to find qualified and recommended candidates. Job seekers have created profiles with recommendations from peers, instructors, managers, and owners. The goal of EatDrinkJobs is to modernize job-hunting in the food service industry by creating an intuitive and easy job search experience.
The website requires potential hires to include recommendations in their EatDrinkJobs profile. When restaurant hopefuls create an employee profile, there is a questionnaire they send to former employers and colleagues, asking those contacts to evaluate them. That evaluation is then attached to their EatDrinkJobs profile. The evaluation is then attached to their EatDrinkJobs profile and is a differentiator in the job seeking space.
"The restaurant industry poses a huge challenge when you are looking for a job, especially in New York City," said Upper East Side resident Angela Calcaterra. She found her current server position at Five Lamps Tavern through EatDrinkJobs. Calcaterra continued, "The EatDrinkJobs process was easy and helped me find a quality position at a quality place. The industry needs this site." Restaurants need stellar candidates, just as much as employees need the right place to work. Frank Petitto, Manager of Loungebars NYC is an EatDrinkJobs user. "We were able to interview and meet some of the best candidates in the hospitality business. The great ease of your web-site and screening makes hiring so much easier for our team," said Petitto.
Julie Lerner and Jason Miller created EatDrinkJobs with inspiration from Lerner's experiences in the industry. Lerner and Miller met while building beehives, as part of a "Big Ten Day" city beautification project through New York Cares. Their passions and interests aligned – food, drink and technology. "I started the website EatDrinkJobs, because of my experiences working at the New York State Restaurant Association and restaurants feedback when looking for qualified applicants," states Lerner.  "I set out to build a website that would ask more of job seekers and elevate the recruitment process in the hospitality industry."
About EatDrinkJobs: EatDrinkJobs.com was founded in 2012 with the intention of offering a platform to set job seekers apart from the rest of the crowded bar and restaurant space. The website creates a clean, user-friendly space to find bar and restaurant candidates without sifting through excess, superfluous information. It also develops a superior experience for job seekers through connecting them to quality jobs, and for employers by allowing them to target for premium applicants.