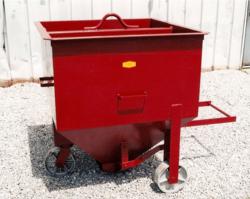 Duluth, MN (PRWEB) August 23, 2012
Gizmoplans has enlarged their concrete equipment collection with the addition of new plans for a 1 yard concrete bucket. Instead of paying the cost of a concrete bucket for sale, companies can now build their own, making it easier to transport concrete from the mixer to its final destination.
Working with concrete is time consuming and filled with multiple challenges. Not only do companies have to make sure that their concrete is of the correct mixture, but they also need to make sure that it is applied to its foundation within a timely manner. There is always the possibility of moving the mixer closer to the pouring area, but this can put employees at risk of injury. Many companies rely on steel buckets to transport the concrete but a concrete bucket can cost thousands of dollars and then there is still the wait for it to arrive.
Gizmoplans understands the challenges that companies face and has released new plans for the construction of a steel bucket that can be built by the company or by a local fabricator. The plans include a complete bill of materials that show all stock steel required parts, individual piece part drawings, actual shop production plans, a complete list of purchased parts, and the names of the suppliers of those parts with their telephone numbers.
The steel bucket features:

Extra strong lifting hook
Width - "40 X 40" sq.
Height – 48"
Weight – 400 lbs (empty)
11 Ga heavy duty steel construction
Reinforced top
Superior concrete tight gate
Easy control of discharge with a pivot dump gate
3 heavy duty phenolic casters
The plans for this steel bucket can even be modified to build a ½ yard bucket or a ¼ yard bucket for concrete. If customers need additional help to modify the plans, they can contact Gizmoplans for assistance. There is also an engineering staff on hand to provide assistance throughout the construction process. With the immediate availability of the plans, which can be downloaded from the website, there is no need to find a concrete bucket for sale. For more information about this steel bucket, please visit http://gizmoplans.com/concrete-bucket-1-yard-concrete-buckets.
About Gizmoplans
Gizmoplans is an online informational website that provides businesses and individuals with downloadable DIY solutions. These plans can be used to build projects for recreation, hobbies, recycling, industry, woodcrafts, metal fabrication, alternative energy and much more. Gizmoplans is also a hub for businesses and individuals to upload and sell their own plans, patterns, how-to ebooks and more. This online marketplace can benefit both the purchaser and the seller in the DIY community. To get more information on DIY plans and DIY projects, visit Gizmoplan's website at http://gizmoplans.com/.