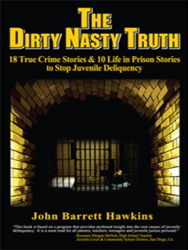 San Diego, Ca. (PRWEB) August 24, 2012
True crime author John Barrett Hawkins speaks before a group of school teachers and concerned parents, and reels off statistics from the Justice Department's National Youth Gang Survey: "There are more than a million youth gang members active in 30,500 youth gangs in the United States. Youth gang members were estimated to be involved in more than 3,300 homicides annually, 28% of all larceny and motor vehicle theft and 13% of all robberies."
John Hawkins advice is detailed in his new book The Dirty Nasty Truth: 18 True Crime Stories to Stop Juvenile Delinquency. It includes significant insights into the root causes of gang violence. Hawkins interviewed countless active gang members to ascertain information that parents could use to protect their teenagers from gang violence.
In his book of true crime stories, John Hawkins explains why teenagers join gangs: "There are several factors that play into it. Sometimes kids admire an older sibling who was in a gang or a neighborhood drug dealer who appears to have a lot of money. Fear can be a factor. Kids may decide that it's better to be a victimizer than a victim. Access to drugs, parties and sex are part of the allure. The biggest element is a sense of acceptance and belonging from their peers. All teenagers are searching for that."
According to John Hawkins kids with low self-esteem are at the greatest risk of becoming gang members. He writes, "Lots of things happen to kids that damage their sense of self-worth: subject to bullying, targeted by gossip or name-calling, feel stupid because they do poorly in school or sports, get teased because of the way they look, believe they are unwanted or unloved by one or both of their parents, feeling inferior to a smart or athletically gifted sibling. The list of triggers for low self-esteem goes on and on. Kids who have been devalued by others are desperate to fit in with a group of kids their own age."
When he was asked what parents can do to prevent their kids from joining a gang or becoming a victim of gang violence John Hawkins asserts, "The most important thing is to develop a trusting relationship with their child. Many of the teens who get in trouble feel disconnected from their parents. They also need to involve their kids and self-esteem building programs, and after school activities that allow them to express their passions and natural talents. If they live in a neighborhood that is inundated with gangs, they should consider moving. Kids who grow up in these types of neighborhoods are programmed to believe that being in a gang is normal."
John Hawkins also recommends that teens read his book. In The Dirty Nasty Truth he tells several true crime stories that describe the terrible consequences of joining a gang. Visit the author's website http://www.dirtynastytruth.com to read free sample chapters.