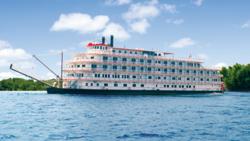 The christening of Queen of the Mississippi is a meaningful way to celebrate the official launch of American Cruise Lines service on the Mississippi River - Charles A. Robertson, President & CEO, American Cruise Lines
Guilford, CT (PRWEB) August 23, 2012
GUILFORD, CONN. – (August 23, 2012) – American Cruise Lines, operator of the newest fleet of riverboats and small cruise ships in the United States, is proud to announce that on Saturday, August 25, in Nashville, Tennessee, Phyllis Dale, a nationally-recognized travel agent and small-ship cruise expert, will christen Queen of the Mississippi and help celebrate the company's first-ever season on the Mississippi River. Following the ceremony, Queen of the Mississippi, the first authentic paddlewheeler built for the Mississippi River in nearly 20 years, will set sail at full capacity on an eight-day voyage from Nashville to St. Louis.
Queen of the Mississippi offers guests a brand new way to see the longest river system in North America and explore the remarkable port cities that line the way. Most of the ship's spacious 300-square-foot staterooms—the largest in the industry—offer private balconies while an all-American staff and crew cater to passengers' every need. Daily educational events and themed entertainment help paint a picture of what life on the Mississippi was like in days gone by. Construction of Queen of the Mississippi was completed in June by Chesapeake Shipbuilding in Salisbury, Md., making it the most luxurious, fully-functioning, authentic paddlewheeler in the industry.
"The christening of Queen of the Mississippi is a meaningful way to celebrate the official launch of American Cruise Lines service on the Mississippi River," said Charles A. Robertson, president and CEO, American Cruise Lines. "Guests now have access to the industry's best amenities aboard an authentic paddlewheeler with a historic appearance."
The Queen of the Mississippi was designed and built to set the standard for modern river cruising. During each eight-day journey, guests will explore Queen of the Mississippi's numerous amenities, including the most spacious staterooms and suites in the industry, unique lounges and libraries. Staterooms features private balconies, many with large sliding glass doors, hotel-style bathrooms, access to room service, in-room phones, Wi-Fi and satellite TV. Seasoned cruise passengers will also appreciate American Cruise Lines' exclusive, open seating dining plan, which allows guests to enjoy meals in a single seating or at the time of their choice, while surrounded by panoramic views of the River.
"There's a reason I've booked hundreds of clients with American Cruise Lines. They simply love the intimacy, history and pure nostalgia of leisurely cruising our country's smaller waterways," said Phyllis Dale, co-owner, Great Escapes Travel. "After boarding this beautiful vessel, it's clear Queen of the Mississippi offers the finest of amenities, ambience and décor. This, combined with outstanding pampered service from a personable crew creates a recipe which will bring passengers back to enjoy all of the Queen's itineraries. I'm honored and proud to have been asked by American Cruise Lines to christen this beautiful vessel."
About American Cruise Lines
American Cruise Lines, the largest U.S. cruise company, operates the newest fleet of riverboats and small cruise ships in the industry and offers more than 35 unique itineraries along the rivers and inland waterways of the Pacific Northwest, Alaska, the Mississippi River and the U.S. East Coast, from Maine to Florida. To learn more about American Cruise Lines, visit http://www.americancruiselines.com or call 800-814-6880. Find us on
Facebook at http://www.facebook.com/americancruiselines or follow us on Twitter at twitter.com/american_cruise.
About Phyllis Dale
Phyllis Dale is a nationally-recognized travel agent and small ship cruising expert. She co-owns Great Escapes Travel in Lake Mary, Florida where she arranges travel for more than 1,500 clients. In 1998, Dale entered the travel industry following a 50-year career in show business during which she performed as a pianist and vocalist in various hotels, clubs and on riverboats throughout the U.S. One of American Cruise Lines' top performing travel partners, Dale has received numerous awards and accolades, including the honor of being named Godmother of Queen of the Mississippi, American Cruise Lines' brand new authentic paddlewheeler built specially for the Mississippi River. For more information on Phyllis Dale, visit http://www.phyllisdale.com.
###