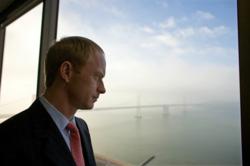 Ethical, passionate representation . . .
San Francisco, CA. (PRWEB) August 24, 2012
Brett Burlison is the principal owner of the Law Office of Brett A. Burlison with offices in San Francisco and San Jose.
Brett has been named a Rising Star and Super Lawyer by his peers since 2010.
He is licensed in California and Texas in both state and federal courts and represents seriously injured individuals in personal injury and product liability, traumatic brain injury, spinal cord injury, and workplace injury and wrongful death matters.
Brett also maintains a serious blog, Legal Blog, in San Francisco. Legal Blog addresses issues effecting consumers and those interested in consumers' rights, the legal community, and personal injury and product defect issues.
On this blog Brett also answers common questions that injury victims may have about specific injuries, types of accidents, and even preventative steps that one can take to avoid certain injuries.
Brett began his practice in Houston, Texas taking on negligent corporations, insurance companies and unsafe work environments. He has had numerous jury trial in Texas and California and is licensed in both state and federal courts in both states.
Before opening his own practice, Brett was part of a trial group in a large defense firm with offices in four cities. There Brett defended trucking companies, excess insurance carriers, and Fortune 500 corporations in traumatic brain injury and catastrophic injury cases. Brett now puts this experience to use every time he represents an injury victim.
Brett is also active in his legal community; he is a member of the Consumer Attorneys Of California, the San Francisco Trail Lawyers Association, the American Association for Justice, and has served as a Vice President of the Palo Alto Area Bar Association and director of its trial practice forum.
Brett is a graduate of the University of Texas at Austin and the University of Houston School of Law. He practices in both Texas and California.
The Million Dollar Advocates Forum was founded in 1993 and there are approximately 4000 members located throughout the country. Forum membership acknowledges excellence in advocacy.
The Forum is recognized as one of the most prestigious groups of trial lawyers in the United States. Fewer than 1% of attorneys in the U.S. are members.