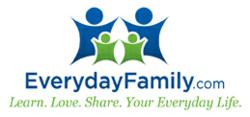 Tampa, FL (PRWEB) August 29, 2012
EverydayFamily.com, a leading preconception, pregnancy and parenting website, joins the ranks of select companies named to the Inc. 500 | 5000 list, ranking #141 in Advertising and Marketing and #1454 overall. This is the third consecutive year in which EverydayFamily.com has achieved a ranking on the elite Inc. 500 | 5000 list.
EverydayFamily.com experienced a 206 percent business growth from 2008 to 2011, adding to the select independent entrepreneurs from the Inc. 5000 list who were responsible for creating more than 370,000 jobs over the past three years – a median growth rate of 94.1 percent.
As an Inc. 5000 honoree, EverydayFamily.com now shares a pedigree with Intuit, Zappos, Under Armour, Microsoft, Jamba Juice, Timberland, Clif Bar, Pandora, Patagonia, Oracle, Facebook and other notable alumni.
"Pretty darn exciting, if you ask me," said Noah Anderson, CEO and founder of EverydayFamily.com. "This is one of EverydayFamily's most distinguished company honors, as well as a huge statement to our entire team's hard work and dedication. Our core drive has always been to 'define the status quo'; and nothing validates this mission more than being repeatedly recognized on the Inc. 500 | 5000."
EverydayFamily.com's success can be directly attributed to its customized advertising and marketing solutions for companies, such as Gerber, Fisher-Price, Disney and Kraft, and its continuous delivery of innovative content and advantageous community tools.
"EverydayFamily, Inc. recognized, early on, the future of internet technology and is now one of the true innovators in the parenting lifestyle space," said Tony Golden, CBDO for EverydayFamily.com. "We are continually offering our marketing partners a variety of creative approaches, helping them reach this audience strategically and efficiently. EverydayFamily.com represents one of the best options for brands wanting to break thru the noise and engage parents within a trusted community-based environment."
About EverydayFamily, Inc
EverydayFamily.com (EF) is an online home and established resource to a growing community of over three million members who share their own everyday parenting experiences with those who are seeking guidance and support as they move through their family's journeys, from preconception, to preschool and beyond. EF focuses on delivering innovative content and community tools to its members, and world-class advertising and marketing channels to its clients. The editors at EF, as well as the entire EF community, are dedicated to providing daily content for families seeking expert and parent advice, information and support… and to giving back to the communities supporting us.
For additional information on EverydayFamily.com or its products, visit http://www.EverydayFamily.com.
About Inc.com
Inc.com, the Daily Resource for Entrepreneurs, delivers advice, tools, breaking news, and rich multi-media to help business owners and CEOs start, run, and grow their businesses more successfully. Information and advice covering virtually every business and management task, including marketing, sales, finding capital and managing people, can be found at http://www.inc.com.