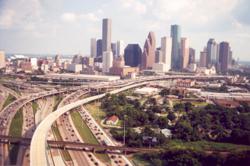 College Station, TX (PRWEB) August 23, 2012
Travel the Katy Corridor? The Texas A&M Transportation Institute is working with the Texas Department of Transportation and Harris County Toll Road Authority to improve travel in the Houston area. As part of that effort, we are surveying drivers in the Katy corridor for their opinions.
The focus of the survey is to better understand how the Katy is working, what is working well, and what could be improved. This is important information to gain now since there may be more, similar, freeway expansions in Houston. Answers provided by traveling Houstonians will help shape the future of Houston roadways.
The survey can be found at http://www.KatySurvey.org and ends September 19th.
Further information is available by contacting Dr. Mark Burris at (979) 845-9875 or by email at mburris(at)tamu(dot)edu
Additional Contact:
Michelle Hoelscher
Texas Transportation Institute
Twitter: @TTI
Facebook: http://www.facebook.com/ttitamu
Phone: 979-847-8724
Email: m-hoelscher(at)tamu(dot)edu
###