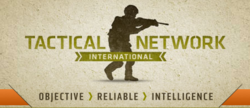 Tactical professional's options were severely limited when it came to securely sharing knowledge.
Seattle, WA (PRWEB) August 24, 2012
In an effort to help tactical professionals worldwide assess tactical gear safety ratings through experiential real-world knowledge, Tactical Network International (TNI) recently launched a one-of-a-kind global online tactical community and information review site.
The TNI website, which is designed for law enforcement, military, and tactical medicine personnel, delivers a variety of free and membership accessed resources, such as expert commentary and articles on the latest tactical trends and issues, secure discussion and Gear-Swap forums, and objective product reviews. Paid membership also includes a subscription to Tactical Monthly, the organization's e-newsletter, and access to restricted forums for verified law enforcement professionals.
"For years, the tactical professional's options were severely limited when it came to securely sharing knowledge, learning from credible sources, and gaining unbiased, reliable information on current and emerging tactics and techniques," said Jake Gillanders, lead editor of TNI. "This new website will be a valuable, reader-focused resource that will help the professional operator protect and save the lives of those they serve as well as themselves."
About Tactical Network International (TNI):
TNI is a Seattle-based technology company on the cutting-edge of knowledge sharing for law enforcement and military operators, among other tactical professionals. Its team of experts leverage more than 150 years of hands-on operational experience, as well as the latest web technologies and a social media-style community, to deliver practical content and insights to readers and members like never before. Lead Editor and Founder, Jake Gillanders is an active Firefighter with the Western Washington Fire Department in Washington state and is an active participant in creating tactical medicine programs for the local sheriff's office.
TNI also works closely with its sister survival gear website – The Officer Survival Initiative sells tactical and survival gear for law enforcement and military professionals. The proceeds of every sale help support direct action grants to law enforcement personnel and agencies.