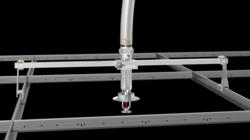 EASTON, Pa (PRWEB) August 23, 2012
Victaulic, a leading global producer of mechanical pipe joining and fire protection systems, introduces the new Series AH2 Braided Hose, the most recent extension of the VicFlex™ Sprinkler Fitting System, previously known as the AquaFlex® Sprinkler Fitting System. This new hose is 100 percent kink resistant and offers the tightest bend radius on the market, at 2 inches (per cULus Listing), as well as the most allowed bends, delivering a new level of installation ease and advantage.
The new VicFlex hose also offers an improved hydraulic performance with a 50 percent lower friction loss over corrugated systems. The improved corrugation and braided technology reduces the effort needed to bend the hose allowing for better shape rentention and ease of bending.
"The new Series AH2 Braided Hose is produced utilizing the highest quality automated manufacturing technology and we are excited about the value and productivity it will deliver to our customers," said Tom Savage, product manager for Victaulic fire suppression systems. "This new VicFlex hose is part of the VicFlex Series AQB Fitting System, along with the Style AB1 Bracket – delivering consistent installation and performance."
The Series AH2 Braided Hose is both cULus Listed and FM Approved in combination with the Style AB1 Bracket.
Note: The AquaFlex Sprinkler Fitting System was recently changed to the VicFlex Sprinkler Fitting System. The VicFlex product line continues to offer fast and dependable installation, durable performance and cost effectiveness for maintenance and retrofit applications.
About Victaulic
Founded in 1925, Victaulic is the world's leading producer of mechanical pipe joining systems. Headquartered in Easton, Pa., Victaulic has manufacturing and distribution facilities worldwide and employs more than 3,500 people. The company develops products and services for some of the world's most demanding markets, including oil, gas and chemical; mining; power generation; water and wastewater treatment; and military and marine systems; as well as commercial building and fire protection applications. Keep in touch with Victaulic on Facebook, Twitter or LinkedIn.