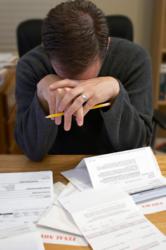 The American public is concerned about tax hikes, and rightly so.
Toms River, NJ (PRWEB) August 27, 2012
The American public is concerned about tax hikes, and rightly so. The Bush tax cuts, already extended by President Obama, are set to expire at the end of this December. Obama may extend them for lower tax brackets. Even if they are extended for another period, the question looms like a dark shadow, "How long can the U.S. government survive without raising personal income taxes for millions of Americans?"
What is a surprise to some is that federal income tax rates are relatively low compared to other periods in U.S. history. In the 1930's, during the Great Depression and the New Deal, the highest tax bracket soared to 80%, climbed to over 90% during WWII and the Korean War, and hovered at 70% during the Carter presidency until Reagan lowered them to 50% during the 1980's. The current top bracket stands at 35%. With government debt and obligations at an all-time high, Americans are understandably anxious about tax increases.
Adding to this potential problem is an increasing number of baby boomers who are retiring with a large percentage of their retirement money in tax-deferred accounts like 401(k)s and IRAs. Every dollar they withdraw from these accounts is taxed, so a $500,000 IRA nest egg is not really as large as it seems. If one's tax bracket is 25%, then that nest egg is really only $375,000, because a gentleman named Uncle Sam is part-owner of that plan. Since most Americans have little to no money in tax-free accounts, they are at the mercy of the government as to what percentage of their funds will actually be theirs to keep in the coming years.
Given this backdrop some Americans have looked into tax-free options, but the IRS has not been generous in granting tax-free strategies-there are only three available. One option outside of IRAs, municipal bonds, give tax-free income, but are generally suitable only for those in high tax brackets who have a lump sum outside of their IRAs to invest and who don't mind locking up their money in a long-term bond in order to get a decent yield.
Roth IRAs are another tax-free option introduced in 1998 by Senator William Roth. It allows for after-tax contributions, but only up to $5000 each year ($6000 if one is 50 or older), and is not available for high wage earners (joint filers making $183,000 or more in 2012 cannot contribute). There are also restrictions and penalties for withdrawals before 59 ½, with some exceptions. After 59 ½, as long as the Roth has been in place for five years, every dollar can be withdrawn tax-free. Some Americans wanting options for tax-free money for retirement have been using the Roth IRA. There are many positives, but one needs to be aware of the restrictions mentioned above.
There is a third option for tax-sheltered money that can be withdrawn tax-free that is not as well-known as the Roth IRA. It's based on IRS Code 7702 and allows for a cash value life insurance policy to be funded in such a way that cash can be withdrawn tax-free, as long as specific guidelines are followed. It's generally not a strategy promoted or used frequently by stock brokers, since it is insurance-based, but it has less restrictions than the Roth IRA.
Tax advisors may not be aware of this strategy either, unless they have an insurance license or have done extensive reading on the subject. Groups that have used this tax strategy extensively through the years are banks and large corporations, and business tycoons like Walt Disney and Ray Kroc.
This type of tax shelter still remains a mystery to many investors, particularly those who are solely focused on stock market investments. More details about this third option and why average Americans may want to consider using it in light of potential tax increases will be explained in the remaining segments of this three-part series.
Brian Solik, CRPC is President and Founder of Wealth Preservations Strategies of NJ. He is a former Wall Street broker who now focuses on educating investors on how to maximize their financial security and minimize taxes. If you would like to receive the remainder of this article contact Brian at 732-415-7717, bsolik(at)brokersifs(dot)com or visit his website http://www.wpsnj.com.
Securities and investment advisory services offered through Brokers International Financial Services, LLC, Panora, Iowa. Member FINRA/SIPC. Brokers International Financial Services, LLC and Wealth Preservation Strategies of NJ are not affiliated companies. The opinions expressed are those of Brian Solik and not necessarily those of Brokers International Financial Services, LLC.