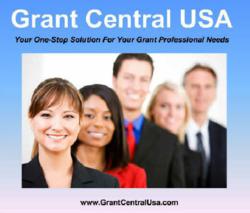 Most people who go into grant writing aren't very good at marketing and selling their services.
Los Angeles, CA (PRWEB) August 23, 2012
Grant Central USA is excited to release a new product designed to help grant writers to market their services to potential clients in their areas. The five part series features video trainings from three veteran grant professionals, John Drew, Phil Johncock and Rodney Walker. "This training is geared toward helping grant writers who are simply unaware of the best ways to market their services and need a step-by-step action plan to guide them in the right direction," says Walker.
"The idea to develop a product to help grant writers who are just starting a grant writing business do a better job marketing their services came as a part of the discussion forums in LinkedIn," says Walker. He and his team manage one of the largest and most active groups on LinkedIn, dedicated to professional grant writers. The group has over 2,600 members and continues to grow at a fast rate.
"Most people who go into grant writing aren't very good at marketing and selling their services, says Drew. His company has grown exponentially over the past two years and has added three new staff members. In the training Drew shares how he turned his struggling grant writing business around into making over $30,000 a month.
"Many entrepreneurs like to turn their passions into businesses, but lack business acumen. I think that having an outstanding coach and/or mentor helps to overcome this hurdle, as well as reading marketing books and surrounding yourself with successful business people in various industries," writes Kimberly Elahab.
The training also offers cutting edge strategies on both online and offline marketing. "There are so many grant writing businesses that are out there and people are just flying by the seat of their pants. They are doing great things, but it is not really run like a business," say Johncock. "They could be making a lot more money than they are making," he adds. "We really hope this valuable tool will make grant writer's jobs just a bit easier and will allow them the freedom to write grant proposals on a regular bases for the charities and organizations they serve," says Walker.
For more information about this and other resources, please visit GrantWritingOnlineCourse.com or call toll-free at 1.888.293.0284.
About the Company:
Grant Central USA is a leading provider in the grant writing training industry offering both in-person and online grant writing classes. The company is based in Pasadena, CA and serves individuals and organizations nationwide to do a better job in writing grants that get funded. Many students have selected this training program as their preferred choice in obtaining their grant writing certificate because of its national reputation. GCUSA provides a content rich grant writing blog and produces the professional grant writer directory.