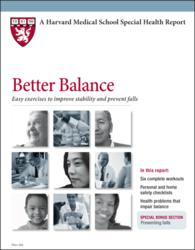 Boston, MA (PRWEB) August 24, 2012
A tumbling toddler can be a joy to behold. A tumbling adult often verges on tragedy. Poor balance, a persistent problem for millions of adults, can cause bone breaking falls. It can also lead to a damaging, downward spiral of inactivity that weakens muscles and bones, and further damages balance.
Maintaining and improving balance should be an integral part of physical activity. Better Balance, a new report from Harvard Medical School, offers six workouts designed to help anyone achieve better balance. The full blend of activities described in the report can help build better body awareness, tune-up the heart, tone muscle, build bone, boost confidence, and preserve independence.
Why improve balance? Good balance can help keep you from falling, a leading cause of broken hips, head injuries, and more. It's important for athletes, even weekend warriors and occasional golfers. Just walking across a room or crossing a street requires good balance. So does rising from a chair, going up and down stairs, toting packages, and even turning to look behind you.
The illustrated workouts in Better Balance provide step-by-step instructions for everything from correcting shaky balance (Beginner Balance Workout) to improving good balance (Balance on the Beam Workout).
Many things can affect balance. Aging can throw it off. So can medications like some antidepressants, blood pressure drugs, and sleep medicines. Better Balance describes these in detail. A number of health conditions also affect balance. (You can read more about these in a free online excerpt.) The report also shows how to integrate balance workouts into an overall fitness plan. A special section that focuses on preventing falls includes a home safety checklist.
Better Balance is available for $18 from Harvard Health Publications, the publishing division of Harvard Medical School. Order online at http://www.health.harvard.edu/betterbalance or by calling 877-649-9457 (toll-free).