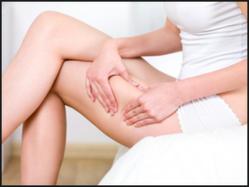 The results are a slimmer, more contoured, and shapelier upper leg area.
(PRWEB) August 28, 2012
When it comes to choosing the right procedure to achieve a firm, toned appearance, skin elasticity is one of the factors that plastic surgeons evaluate. And this holds true for those who want to improve the look of their thighs.
While liposuction performed in the thigh area will definitely eliminate excess subcutaneous (below the skin) fat, it won't address any issue with excess skin. And if the skin itself has poor elasticity, the results may be less than desirable. This is where a thigh lift can help, since the procedure removes excess soft tissue and loose skin from the inner (medial) thigh region and/or the outer thigh. The results are a slimmer, more contoured, and shapelier upper leg area.
Two thigh lift options are available, with the choice made based on the extent of the area to be treated. One option involves an incision that begins in the groin area and extends to around the back of the thigh. This allows the plastic surgeon to reshape the entire area. The second — a minimal incision medial thigh lift — is less extensive, with just an incision in the groin area.
While the American Society of Plastic Surgeons notes that results from a thigh lift are visible almost immediately, hold off for a few weeks on displaying your gams on the dance floor or the track. The incisions need time to heal, which means avoiding any excessive force, abrasion, or motion. For best long-term results, commit to maintaining a stable weight and general fitness, although normal aging can cause the loss of some firmness.
To learn more about thigh lifts, visit Liposite, to find informational resources to learn about liposuction, body contouring, and abdominoplasty (tummy tuck) surgery.