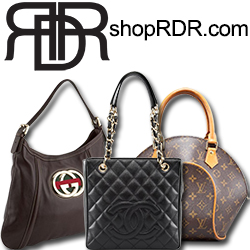 In a couple generations, clothing went from something that was very pricey and cherished to something we're consuming on the cheap and consuming in shockingly high numbers.
(PRWEB) August 29, 2012
'Fast Fashion' Costing Americans More In The Long Run? These days, luxury trends can premiere on the runway and arrive at retails stores in record speed. Rodeo Drive Resale (http://www.shopRDR.com), premier reseller of 100% authentic guaranteed handbags and fashions including Louis Vuitton purses, Gucci Wallets and Tiffany & Co. jewelry, examines "fast fashion" and informs shoppers of how they can acquire quality pieces while scoring huge savings on the biggest names in upscale clothing and accessories.
"When Roberto Cavalli does H&M, it makes him more accessible and even more popular. The customer of fast fashion is not high end and for the designer, it boosts the image," Tiziana Cardini, creative director of the La Rinascente department stores in Italy said in a New York Times feature on the rise of "fast fashion."
The term, used to describe the practice in which designs are rushed from the catwalk to store in order to capture current trends, has done wonders for midrange retail stores, whose customers typically are not purchasing items such as St. John Knits, Louis Vuitton heels and Chanel purses. These "inspired" designs give midlevel shoppers the look of luxury pieces, without the high tag price.
And while fast fashion may seem harmless – luxury styles quickly and cheaply made for the masses – these items often lack the quality of higher-end brands and rarely hold together for more than a season or two. ShopRDR.com encourages fashion lovers to consider purchasing from its inventory of gently used clothing and accessories, many of which are still in like-new condition.
At Rodeo Drive Resale, buyers can shop online for brands such as St. John Knits, Prada, Jimmy Choo, and more. Depending on the popularity of the site, sellers may range from individual clients, high profile celebrities or even actual boutiques. Items are guaranteed authentic and designed to last for several seasons.
Despite the growing concern over fast fashion and its effect on sales, popular fashion houses and even the environment (many cheap, inexpensive clothes are quickly discarded, adding to our nation's landfills), Cardini believes the market will be susceptible to fast fashion and accessories for some time.
"I don't think fast fashion is over, especially in this economic situation," Cardini told the Times. "People have less money to spend and they are considering fashion in a different way. For designers, it is a very strong communications lesson, and if it is weak in terms of quality, this is a celebrity-driven moment."
Elizabeth Cline, author of Overdressed: The Shockingly High Cost of Cheap Fashion, agrees: In her book, she explores how sweatshop labor, the fall of middle-market, and lower standards in the quality of clothing are all examples of the price we pay for the savings commonly associated with fast fashion.
"In a couple generations, clothing went from something that was very pricey and cherished to something we're consuming on the cheap and consuming in shockingly high numbers," Cline said in a July 31 story posted online by The Pittsburgh Post-Gazette. "There have always been consumers that shopped cheap, but before that it wasn't cool to shop cheap."
Rodeo Drive Resale (shopRDR.com) has built a reputation of providing amazing deals on handbags, clothing and accessories from the top designers of upscale fashion. The company offers a 100% guarantee of authenticity on each item sold, and works daily with a network of clients looking to buy, sell, or for consignment of their luxury goods. ShopRDR.com loves high-end fashion, and believes finding a high quality, classic piece should be an easy, enjoyable -- and most importantly -- hassle-free shopping experience. For the finest in Louis Vuitton, Chanel, Prada, Gucci, St. John Knits, Christian Louboutin, Tiffany & Co. and more, visit RDR online at http://www.shopRDR.com or call 1-888-697-3725.
Also find shopRDR at:
Facebook: facebook.com/shopRDR
Twitter: twitter.com/shopRDR
YouTube: youtube.com/ shopRDR
Pinterest: pinterest.com/shopRDR
Rodeo Drive Resale (shopRDR.com)
1-888-697-3725
service(at)shopRDR(dot)com