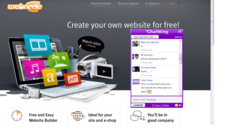 New York, NY (PRWEB) August 23, 2012
Webnode is currently used by thousands of users because its easy to use features. The best things in life are free. You don't even have to pay for their services. Site building, content management, modern templates and hosting are free. Users can create their website in a matter of 5 minutes. No technical skills, no installation or configuration required. Just register and start building.
Webnode users can now make the most of the communication benefits brought about by the new chat box developed by Chatwing. This chat software offers a continuous stream of communication and easy installation process.
To get started, Webnode users just need to register a new account in Chatwing.com. Once they have created their ChatWing account, they will be able to customize their chatbo x. Once they have done this, they will be given html code that they must embed on their Webnode website. This free chat box allow website users and visitors have a real-time communication tool. The chat widget can either embedded on the website or be a pop-out window in the website.
Since webnodes users can choose from thousands of lay outs, the chat widget from Chatwing can be seamlessly integrated in the website by customizing color and size.
Webnode caters to different types of users. There are those who are using Webnode as a personal website. This is for those who maintains blogs or picture galleries. Businessmen are also using Webnode for their business sites. Webnode has been used by over hundreds of business professional. Now, Webnode has also been popular to online selling and marketing. With this range of users, having an embedded chat widget will increase their online visibility and accelerate their communication with their visitors and subscribers.
It may be a problem to some on how to manage this free live chat embedded on their website. But with Chatwing, this is relatively easy. Chatwing can filter profane languages. Chatbox Admin has the ability to ban spammers, delete individual messages real time, and even remove all messages. Admin can also "Turn Off Chatbox" as necessary. In any event when users are hard to manage, Admin can ban or block users forever.
Users do not need to log in or register as a user. Users can log in using their twitteror facebook account, or even log in as guests. Guests can choose their name and avatar to make the conversations fun and interesting.
About Chatwing.com
Chatwing.com has developed live chat software for websites. forums and blogs. It caters to different online communities ranging from travel blogs, tech savvies, online gamers to fashion bloggers. Everyone can create a customizable live chat widget in less than a minute. The ability to chat via social media accounts such as Facebook and Twitter enable Chatwing to offer a special and one of a kind real-time experience to all sites. Chatwing is 100% free and very easy to use.