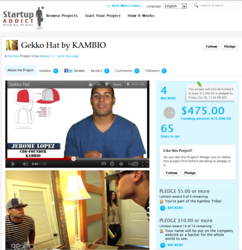 I love a great tech startup as much as the next person, but we need to support all forms of startups. -Tod Whipple, Founder
Boston, MA (PRWEB) August 23, 2012
In a world filled with headlines about the next big Silicon startup a crowdfunding site called StartupAddict.com is making headway supporting the efforts of small startups everywhere. The crowdfunding platform's mission ensures all startups have a fair shake at funding and not just the well connected serial entrepreneurs. A great example is a startup called Kambio that is launching a product called Gekko, an interchangeable sports hat.
The Startup landed nearly $500.00 dollars in funding in the first hour on Startup Addict because of the founder's carefully thought out introduction video and social media promotion. The Gekko concept is a great example of what entrepreneurs can achieve when an innovative idea is in need of a little extra financial push to get to the next level.
Startup Addict is targeting Startups from all walks of life from the little cupcake shop in Georgia to the towing company in Nebraska. Startup Addict has been providing resources to entrepreneurs and startups since 2007.The Crowdfunding portal just released version 3.0 of its' reward-based platform and prepared the website backend for equity crowdfunding in 2013 per the JOBS Act.
Equity crowdfunding is yet to become available or legal in the United States. While startups are waiting to finally grab equity shares in 2013, Startup Addict will continue to be the go-to resource for launching a startup through the reward model. The usual rules of crowdfunding engagement apply:
-A Startup story the crowd can relate to
-Founder transparency.
-Show passion & honesty
-Affordable investments tiers for backers
-Offer unique and compelling rewards
-Promote and market your startup to the world
If you can get just 20 percent of your project funded by your circle of friends and social influence you will be well on your way to success from the crowd.