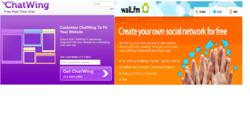 Houston, TX (PRWEB) August 23, 2012
Social networking sites are now filling the different sides of the Internet, based on the growing numbers of social networking site creators today. One of these famous site builders is Wall.fm; this website allows users to create interactive social networking sites about different niches. Chatwing, a company specializing in website visibility boost, has recently introduced a blogging chat box that can provide a high rate of online presence for Wall.fm users. With Chatwing's simplicity and high rate of connection, Wall.fm users can create lively social networking sites that can attract hundreds and thousands of people everyday.
Chatwing's developers have seen their free shout box as an interactive blog support as a whole. However, after expanding in different blogging communities, many people were able to use the Chatwing app for different purposes. The most common of these purposes is online marketing; because of the chat tool's ease of access, many visitors have managed to talk to each other about certain topics. These topics are usually about the blogs Chatwing is embedded into. Additionally, events discussions are also common in every Chatwing chatroom, such as the opening and ending of 2012 Olympics. The Chatwing chatbox have also been used in podcast and TV streaming websites. Not only web surfers were able to discuss their favorite shows, but they have also managed to make new friends.
Wall.fm users can take advantage of Chatwing's easy installation mechanism. The free chat box can be installed in under a minute, depending on the preferences of the user. The current version of the Chatwing tool also has a 1000-user capacity, allowing more people to join and start discussions. Conversation control is also one of the main features of the Chatwing chat app. With this option, users can delete messages in one click and also ban other people who are using profane language.
There are thousands of niches to cover in Wall.fm alone, based on the observation of Chatwing's developers. To help people from all of Wall.fm's niches, the Chatwing team is planning to introduce the free chat widget in a rapid scale. At this rate, many people will be able to have a new website and blogging chat experience that will be known for many months and years.
About Chatwing.com
Chatwing.com specializes in the new field of website chat. Over years, the Chatwing team has introduced live chat widget for hundreds and thousands of blogs. The Chatwing application bridges people from many parts of the world, creating global synergy through the Internet. The shout box can be installed in just seconds, and it can be used for varying purposes such as leisure and Internet marketing. It also allows a user to customize the size, color, and name of the widget. Chatwing is 100% free for everyone.