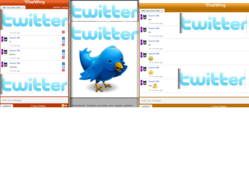 (PRWEB) August 23, 2012
Twitter online marketing is now one of the important Internet facets that Chatwing wants to improve. Chatwing, a company that has been making chat apps for more than three years now, is ready to introduce a new chat widget that can bring a new form of communication leverage for everyone. This chat tool is 'scaled' to simplicity, allowing many people to use it with relative ease. The recent Chatwing tool also comes with useful features such as direct link sharing, social media integration, and full admin control. Online marketers in Twitter can also use the Chatwing app to reach their target markets with improved efficiency.
Twitter users, especially those with online businesses, have seen the importance of micro-blogging. This is based on the amounts of tweets appearing in Twitter, every now and then. The Chatwing team has made a careful observation in order to create a free shout box that can make a difference in online competition. The current Chatwing shoutbox is now featured with social media integration--an option that allows users to log in with their Twitter and Facebook accounts. Aside from finding new followers, Twitter online marketers can now reach out in Facebook as well. Moreover, Chatwing's free chat box is flexible enough to accommodate up to 1000 users. This high rate of capacity is even subjected to strategic upgrade in the coming months.
Some Twitter micro-bloggers have remarked that Chatwing's direct link sharing option is a trump card. Chatwing's researchers have responded by observing the user responses regarding the direct link option of the chatbox. In just few days after introducing the feature, thousands of signups have appeared in the Chatwing radar. The team has estimated that these users are coming in from blogging communities and Twitter, as well. The direct link sharing option allows users to send shortlinks to their friends and colleagues, creating private group chats. Twitter online marketers can use this new option to interact with their target audience directly.
Aside from Twitter online marketing campaigns, the Chatwing team is looking forward to help reviewers and bloggers all over the Internet. The Chatwing team believes that all niches in the Internet require a form of uninterrupted communication. Chatwing remains true to its goal by continually employing strategic web developers and creating new developments that users can look forward to.
About Chatwing.com
Chatwing.com specializes in the new field of website chat. Over years, the Chatwing team has introduced live chat box for hundreds and thousands of blogs. The Chatwing application bridges people from many parts of the world, creating global synergy through the Internet. The shout box can be installed in just seconds, and it can be used for varying purposes such as leisure and Internet marketing. It also allows a user to customize the size, color, and name of the widget. Chatwing is 100% free for everyone.