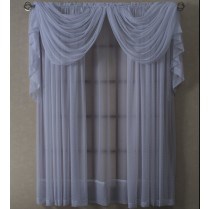 Brooklyn NY (PRWEB) August 30, 2012
As an industry leader, Shopbedding.com has taken an important step toward making home design and living comfortable by offering luxury linens and bedding whose quality is unmatched. As a luxury bedding retailer, Shopbedding.com has been in business for 50 years and remains devoted to manufacturing stylish tapestries that dazzle customers and give sleeping quarters a comforting feel.
Now the company is branching out. Shopbedding.com is offering a full line of curtains and valances, all of which add an extra touch of comfort and style to any home. The new line includes sheer lace curtains that feature embroidery, faux suede curtain grommets paneling and many others. Following in the footsteps of traditional curtains and valances, Shopbedding.com continues its mission of providing some of the most beautiful linens available. With that in mind, it offers a distinct variety of curtains and valances. Throughout its 50 years of service, the company has designed elaborate curtain panels, many of which present sweeping drapes of sheer fabrics that adorn window tops.
Curtains and valances highlight a home, giving windows a style that match a home owner's personal design and warms homes with elegance. Touting its services as some of the best in the industry, Shopbedding.com is giving customers the ability to create a beautiful theme in any home with beautifully-designed curtains and valances.
According to Shopbedding's website, the company specializes in satin bedding and fine textiles. Included in the company's product line are dust ruffles, pillow shams and full bedding sets. In addition to these items, Shopbedding.com sells blackout curtains with elaborate details and valances of all kinds.
With a full line of curtains and valances, Shopbedding.com gives decorators and home owners the ability to decorate an entire home with beautifully-designed tapestries and valances. With everything from Rochelle lace straight valances to Savannah Embroidered window valances, Shopbedding gives shoppers the ability to give your home its own personality. After all, the appearance of your home is a reflection of you. With Shopbedding, you can make your personality shine.
The ability to make your home beautiful is yours when you buy from Shopbedding.com's full line of curtains and valances. From beautiful modern square grommets to its garland lace curtain panels, Shopbedding.com is devoted to offering a wide variety of curtains and valances. Tailored curtain panel pairs tastefully frame windows and make them uniquely beautiful. How can you, the customer, benefit from Shopbedding.com's full line of curtains and valances? Consumers get a great product for a low cost. Save money and enjoy the benefits of beautiful and luxurious linens.
So how can you learn more about Shopbedding.com's products and make these products part of your home décor?
The answer is simple. Log on to the company's website. There, you will find a full selection of the company's products and information about the company as a whole.