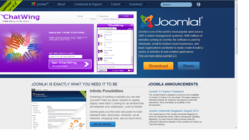 Oklahoma City, OK (PRWEB) August 23, 2012
Based on statistics, millions of sites are using Joomla! to power their websites because Joomla!, known to be a effective content management system, is easy to use and is available to everyone since it is open source. ChatWing can bring more life to Joomla! – powered sites by providing a free shout box that can be embedded into a website. This free live chat application from ChatWing can be a very valuable addition to a Joomla! site because a chatbox can stimulate interaction for website visitors eventually creating a community within a website.
From the wide range of websites made using Joomla! – from individual to corporate sites, ChatWing's free chat widget can be of great use for increasing the visibility of a website. The chat box can also be a good tool for directing the desired traffic into a website and ultimately augmenting to the popularity aimed by most websites today. ChatWing's chatbox can serve as a very good source of diverse ideas from website visitors' real time interaction. The web surfers can immediately give their opinions on the content of the website or they can suggest better ideas on just anything they have on mind. The website administrators, on the other hand, can provide instant replies to all the concerns of their website's visitors. These vast amount of ideas can in turn become a great resource for website content.
The ChatWing chat widget can easily be added to a Joomla! site. First, an account must be created which basically asks for an email address and a password and, of course, there is a need to agree with the Terms and Conditions and the End-User License Agreement for the ChatWing Platform. The user will then be able to manage the domain and the chatbox. Depending on the user's choice, a live chatbox will be embedded on the homepage or a button will be added so that when a user clicks the link, the live chat box will open in a new window. The user can also choose to have a link on his site to his/her own URL for group chats with selected people. The size and frame color of the chat box can also be customized to fit the website's theme or design. After all these, an HTML code will be generated to be copied and added to the Joomla! administrator backend extensions.
About ChatWing.com
ChatWing.com specializes in the new field of website and blog chat. Over years, the ChatWing team has introduced free live chat for hundreds and thousands of blogs. Its versatility and high rate of connectivity has engrossed online communities to utilize ChatWing's chat software. The ChatWing application bridges people of different race and culture, from many parts of the world, promoting global collaboration and camaraderie through the Internet. ChatWing is 100% free for everyone.