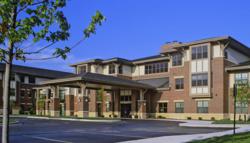 Menomonee Falls, WI (PRWEB) August 23, 2012
A Menomonee Falls, Wisconsin independent retirement community will unveil a new look to the public during a Labor Day celebration and ice cream social on Saturday, September 1 from 2-4 p.m.
Village at the Falls, formerly known as Alta Mira, is located at W129 N6889 Northfield Drive in Menomonee Falls, Wisconsin's largest village just northwest of Milwaukee.
The senior living community officially changed its name to pay tribute to the town's most prominent feature, the falls from the Menomonee River, and renovations are underway to add 22 new studio apartments. Each new apartment is complete with a full kitchen, full bath and new appliances.
Village at the Falls opened in 2005 and now features 148 private apartments. Holiday Retirement acquired the community in June. Holiday Retirement, http://www.holidaytouch.com is the largest provider of independent senior living with more than 300 retirement communities in the United States and Canada.
"We are pleased to serve local seniors through our Menomonee Falls community and decided to change the name to provide more of a local flavor," said Yovan Luyt, Holiday Retirement's Senior Regional Director. "The addition of studio apartments is yet another way we can better serve area seniors by providing more choices."
Village at the Falls will continue significant enhancements through 2012, offering residents chef-prepared meals, 24/7 live-in managers, daily activities, transportation, housekeeping and more in one all-inclusive monthly rent.
Other community amenities include a fitness center, game room, courtyard with gardens and a gazebo, and an on-site beauty salon and barber shop. Village at the Falls is ideally located directly across from Community Memorial Medical Commons and within reach of all the big-city attractions in Milwaukee.
To learn more, please call 503-586-7289.
ABOUT HOLIDAY RETIREMENT
Based in Lake Oswego, Ore., Holiday Retirement founded the concept of independent senior living in 1971 and is the largest provider in North America today with more than 300 retirement communities throughout the U.S. and Canada. Holiday Retirement is in the business of providing security, comfort, and value to independent seniors seeking a fulfilling lifestyle in a welcoming environment. For more information about Holiday Retirement, please call 503-586-7289.
# # #